Configuration:
With the included software installed, you can fine tune the Level 10 mouse. The main menu provides many options, such as selecting any of the five profiles. Each of the profiles can be customized by the sub-menus. One setting that is only set on the main menu is whether the mouse lighting is done in the "normal" or "battle" mode. In normal mode, you get the "breathe" effect, while in "battle" mode the lights will change depending on the clicking frequency. On the main menu you can also click the picture of the various buttons of the mouse to adjust what they do using the Key Assignment options. Thermaltake has also included two videos to explain the "Air Through" and "3D Axis Movement" features of the mouse.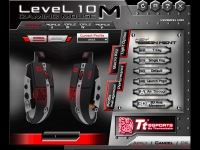 On the "Light Option" menu, you can adjust the color of the three locations. There are a total of seven colors you can choose for the three locations. As this picture shows, I have chosen three different colors. Purple for the scroll wheel, red for the left button, and green for the TT eSports Dragon. Your other option is to totally turn the lighting effects off. As this can be set for each profile, you can have different color effects for different games.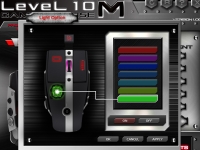 Configuring a macro is pretty simple, and it takes each key stroke or mouse click and puts it into the macro configuration. By default, it enters the commands at the rate you perform them, with each pause that is done. However you can manually adjust the delay, zero out the delay for each command, ignore all the delays, or set a default delay for all the commands. There is also a drop down menu that has many built in commands such as Copy, Paste, Print Screen, Lock PC, Alt-Tab, Print, and many others. As each keystroke is really two commands in the programming, you can do approximately 57 keystrokes (press down and lift up); this includes using shift and enter/return. In version 1.0 of the software, there is a slight misspelling of Return; not a game changer and I'm sure Thermaltake will update it pretty quickly.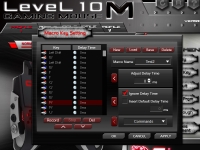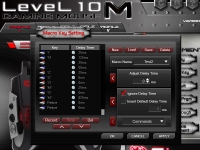 The Performance menu is where you can set many options to customize how the mouse feels for each profile. First, you can adjust the pre-set DPI levels (there are four), it comes preset but feel free to override that to your specific needs. Next is the Double Click Speed, Cursor Speed (another misspelling), and Scroll Speed. There are so many possible settings, there is no reason this mouse can not be customized to perform perfectly for everybody.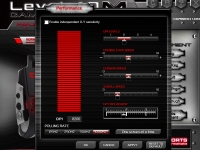 The final sub-menu is for Profile Management, and this is where you can save individual profiles and assign them as necessary. In theory you can have an unlimited number of profiles, but only five active at any one time. These profiles are used on the main menu to quickly change the five active profiles.