Conclusion:
I have been a fan of
Thermaltake
for a long time, and cases like the Chaser MK-1 will keep me coming back. It is extremely well built, and the design of the case flows really well. Including dual USB 3.0 ports is great, and something that should become a standard feature. The other features of this case provide everything I need. I could rehash every feature and explain why I like them, however what you really need to know is that this case does its job extremely well. It will keep your components cool, and will be nearly silent while doing it. The construction is of the highest quality, which is what I expect from Thermaltake.


There really isn't anything wrong with the Thermaltake Chaser MK-1. The only thing I found odd was the blue LED exhaust fan; by itself it's a great fan. However, turn the color-shift fans to green or red and the blue LED exhaust fan looks out of place. It would be better if this was a normal non-LED exhaust fan or make this a Color Shift fan to match the other two fans. Not only that, but if you turn the Color Shift fan LEDs off, the blue LED exhaust fan stays on.
The
Bigbruin.com shopping page
finds the Thermaltake Chaser MK-1 available at Amazon.com for about $160 (US). It looks great and has some nice features, such as the hard drive dock, color-shift fans and many tool-less options, making this a good price for a full tower of this quality. Also, if you want to set up all the fan options, additional Color Shift fans are available from Thermaltake for around $10, which is a great price for a 200mm fan of this quality!
A system installed in the Thermaltake Chaser MK-1 Full-Tower case will give the owner a great looking system with lots of room for all kinds of components. It therefore earns the Bigbruin.com "Highly Recommended" and "Gaming Approved" awards.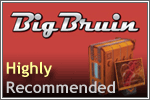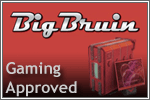 Pros:
» Tool-less 5.25" and 3.5" drive installation
» Tri-color Color-Shift fans
» Breath Lighting effect
» USB 3.0 internal connector
» Extra large CPU cooler backplate access
» LOTS of great cooling options
» Easy power supply filter cleaning
» Integrated hard drive dock
» Nearly silent
» Great craftsmanship construction
Cons:
» Blue LED exhaust fan, while the others are color-shift
» Easier access to front intake filter would be nice
» Not quite as big as other full tower cases
Please drop by the Bigbruin.com Forum and feel free to post any
comments or questions
.