Testing and Performance:
The lighting options on the Chaser MK-1 are substantial. First the two Color-Shift fans allow for six different settings: Blue, Green, Red, mixed color, switching between colors and off. While some will always want more control over the color, these settings are a nice selection. If you want to add additional fans, you can
purchase
additional Color-Shift fans from Thermaltake. The only downside is that you need a Y cable to control two Color-Shift fans like the one that comes pre-installed. The Chaser MK-1 also provides two fan settings, Low and High. On low, the case was silent, however when they were switched to high, there was a dull hum from the fans.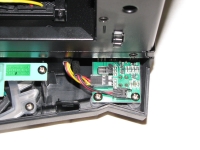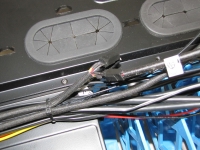 To evaluate the idle temperature, the system was left sitting at the Windows desktop with nothing running for 60 minutes in a room with an ambient temperature of 70 degrees Fahrenheit (approximately 21 degrees Celsius). The Thermaltake Chaser MK-1 was at least 5 degrees cooler than the Rosewill Ranger with the fans on low. Once the fans were turned to high, that increased to 8 degrees.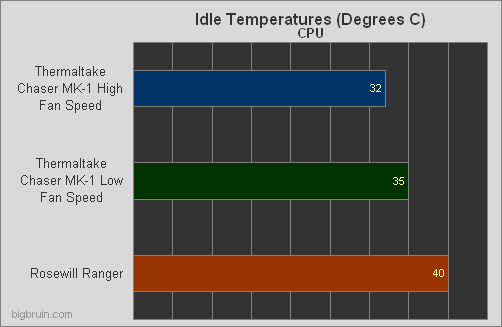 To obtain a load, 3DMark Vantage was run three times with the highest settings possible, with the maximum temperature being recorded. The results are similar to the idle temperatures, with 5 degrees Celsius separating the Thermaltake Chaser MK-1 and the Rosewill Ranger. Kicking the fans into high speed mode, increased this difference to 11 degrees Celsius.