Internal Inspection:
Removing the side panel, the interior of the case can be seen. The interior has been painted black with the blue trim on the tool-less 5.25" drive bays, and the hard drive trays. A few things are quickly noticed, the first is the extra large hole in the motherboard tray to allow access to the CPU support bracket, five different cable routing holes and the previously mentioned tool-less drive bays.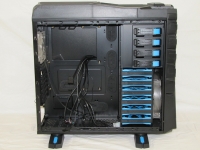 The 5.25" drive bays are a little different than I have seen on previous Thermaltake cases. Pressing in the blue tabs will allow the devices to be installed, and once released the device will be secured. There are also places for screws, which should be installed on the other side as there is nothing to support the devices on the back side.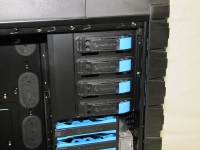 The 3.5" hard drive trays were looked at earlier in this review. Here you can see the six 3.5" hard drive trays installed in the Chaser MK-1.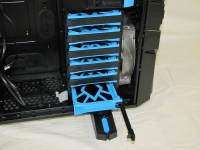 At the bottom of the case there is a place for the power supply. There is also a support bracket to help keep it elevated off the bottom of the chassis. The support bracket can be moved as necessary to fit different size power supplies. There are no rubber pieces to help reduce any vibration from the power supply.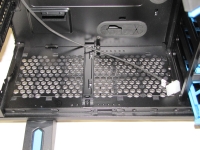 There is nothing unusual about the back panel... here the exhaust fan can be seen along with the eight expansion slots. There is one grommeted wire management hole that will be under most motherboards. While this seems strange, if you install a micro-ATX or Mini-ATX motherboard this will be useable to route cables. The specifications say the back exhaust fan is 140 x 140 x 25 mm TurboFan, 1000rpm, 16dBA and the stock photo shows this as being a black fan. As this picture shows, I received a crystal fan, which I find out has blue LEDs. While this is appreciated, it is kind of strange as the other two LED fans are color-shift fans, this one is a standard blue LED fan. If I want the color-shift fans to be green, or red, this will look out of place.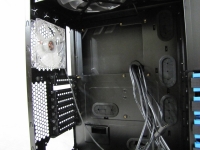 The top of the case will hold two fans, and Thermaltake has pre-installed a 200mm Color-Shift fan here. A second Color-Shift fan can be installed, or a smaller 140mm or 120mm unit. With the top bezel removed, the top fan can be seen, as well as the location for a second (optional) fan.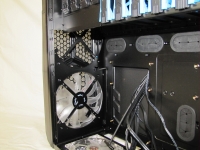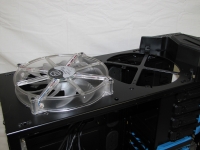 Removing the front bezel reveals the intake fan filter and the open 5.25" drive bays. I like having an intake fan filter, however removing the front bezel to clean it can be problematic. I would really like to see an easy access point for front intake filters, like Thermaltake has implemented for the power supply intake filter.