Exterior Examination (continued):
The side panel also has a bit of a design to it, thankfully it's not too flashy and looks great. Three key features on the side panel stand out, and the first to consider is the window at the top portion of the panel. Thermaltake has this covered by some plastic to keep it safe from scratches. Below the window is an optional fan mounting location for a 200mm case fan.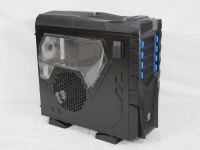 The third feature on the side panel is the headphone holder. When not in use it can be folded out of the way, and folded down for headphones to be placed on. I like this feature as I am always looking for a place to put my headphones so they do not get broken.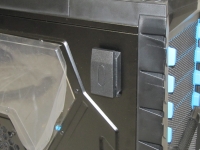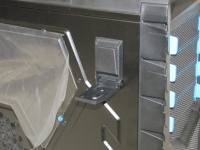 The back side of the case is fairly standard. At the top of the case there are three grommets for water cooling, the motherboard I/O plate, 200mm Color-shift exhaust fan, expansion slots, two security features and finally the bottom mounted power supply. The picture on the right shows the two security features... the first is for your peripherals, while the second is for the side panel.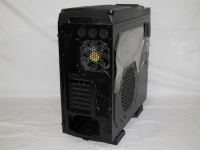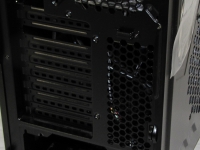 The majority of the bottom is covered by a large filter to help keep dust out of the power supply, and out of the optional bottom fan mount. The case is held up by four large feet which can be placed in any of three positions (four if you count the original position). The feet are black, with a blue spot providing a little bit of color.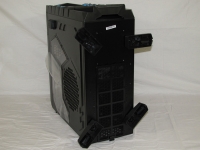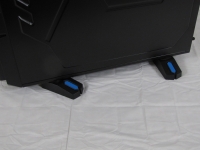 The power supply fan filter is easily accessed at the back of the case. At the bottom is a little pull tab, which snaps into place. The entire filter can be removed to help clean it. I really like this method of cleaning the fan filter, as it makes it easy to clean. It would be a nice bonus if the front intake filter could be cleaned this easy.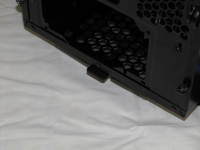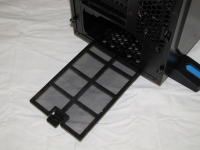 There isn't anything to the back side panel, a few raised areas providing some texture versus a plain flat panel. It follows the design laid out through the rest of the case.