Exterior Examination:
The Thermaltake Chaser MK-1 is available in one color scheme... black with blue trim.


My first impression of the case was very positive, but I wasn't sure if I'd like the bright blue trim. However, I now think it looks great; it's not overstated and is used as an accent throughout the case.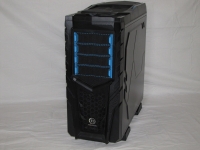 Starting at the top of the case, we find that it is almost all one large section of mesh to provide ventilation. At the front edge is the standard I/O, power switch and the included hard drive dock. The back half of the top edge has been trimmed in blue.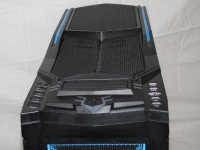 The top I/O connections are grouped along the left and right edge of the case. The left side of the case has the standard headphone/microphone jack, and four buttons. These buttons are for the reset switch, fan speed control (high or low) and changing the fan LEDs. The right edge has five features for easy connectivity, which include two USB 3.0, e-SATA, and two USB 2.0 ports.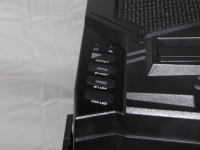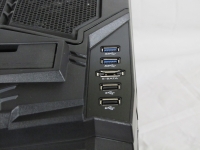 As previously mentioned, the top of the case also includes the hard drive dock. This will connect to an internal SATA connector, and will allow use of either 3.5" or 2.5" hard drives. If you have a hard drive dock, such as the
Thermaltake's BlacX
, it will now be obsolete. In front of the hard drive dock is the power switch and the Chaser MK-1 logo which lights up blue and has the "Breath Effect" feature.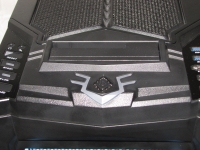 The front bezel of the Chaser MK-1 has the usual suspects, at the top are four 5.25" drive bays, while the bottom portion is covered in metal mesh to provide good airflow. The design of the front is sleek and provides a unique look to the case.