Packaging and Accessories:
Thermaltake
packages their cases in heavy duty cardboard boxes that are designed to draw attention at the local electronics superstore. They are highly effective with both the color scheme, and presenting information in an easily understood layout. The front of the box provides a glimpse of the case, with only USB 3.0 compatibility being called out. The back of the box provides much more detail on the case features.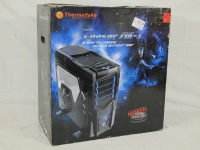 As always, Thermaltake does everything it can to ensure users have everything they need to install their system into the case. They include many accessories as shown below. These include an Auxillary power cable extender, tiny PC speaker, a bunch of cable ties, and plenty of screws (including long screws to install a secondary exhaust fan). In addition, there is a detailed installation manual, and a 5.25" to 3.5" drive bay converter with a compatible drive bay cover.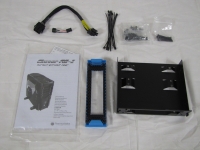 Speaking of the drive bay covers, these are easily removed by pressing the sides inwards. Once removed you have full access to the 5.25" drive bays. To help keep the system clean, Thermaltake installs a simple filter behind each of the covers.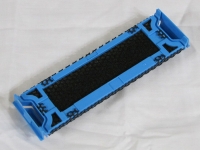 Thermaltake uses a drive tray system to install 3.5" hard drives. There are six of these trays pre-installed inside the Chaser MK-1, and using them makes installing 3.5" hard drives completely tool-less. However, in order to install any 2.5" drives you will need to use screws to hold them to the tray.