External Examination (continued):
The top of the case continues with some raised areas at the front of the case, which leads to another section for two fans. Here the included 200mm case fan is found. In front of it is a spot for an optional 120mm case fan.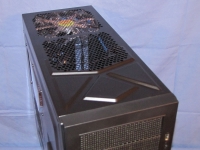 The side panel continues the raised areas at the top of the panel, gradually decreasing into the case at the bottom of the panel.


There are three distinct features on the side panel. On the lower left corner there is a place to attach an optional 120mm case fan. Directly above that there is a small window which provides a clear view of the top section of a motherboard (ie, the CPU and RAM areas). The third feature is Thermaltake's SideClick EasySwap hard drive bay, and this feature will be looked at in more detail later.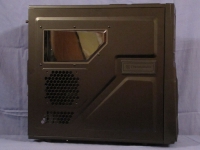 The rear panel looks almost identical to every other case. Two things stand out, just below the 120mm exhaust fan is a little lock you can use to secure two or three small cable devices. In the picture below it is being used to secure the USB 3.0 cable for the front panel. In addition, there are four water cooling holes, two at the top and two at the bottom. The two at the top are pre-punched and ready to be used, while the two at the bottom need to have a cover removed and a protector placed around the hole to keep your water cooling hoses from getting cut.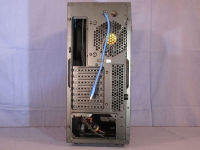 The below left image shows the bottom of the Armor A60. There is a place for another 120mm case fan, and at the back of the case (bottom in this picture) is the power supply intake. The below right image shows the filter in place for the power supply intake. This filter can be removed, however it is not very convenient to clean. The case feet raise the case about 3/4 of an inch off the desk, this will allow the power supply to breathe a little easier.