Conclusion:
If you are looking for a small form factor case to take to LAN parties or just to save space, the
Thermaltake
Armor A30 is a great option. It has the features that are needed in an enthusiast level case, including a USB 3.0 port, SSD support, room for multiple hard drives, a removable motherboard tray, and even support for long video cards.
On the surface, all the features in the Armor A30 make for an impressive Micro-ATX case. Being a small case, an initial concern would be temperatures, however the large 230mm fan, dual 60mm exhaust fans and the 90mm intake fan provide plenty of cooling. While it registered a few degrees warmer than a mid-tower case that housed the same components during testing, the temperatures were still well within comfortable levels. With all of these fans the noise was able to be noticed, but it was not very loud, and it wasn't noticed at all once a game was started.


While most of the installation went without any issues, one area of concern is with the video card. The eVGA GTX 275 is a dual slot video card and is shorter than the 13" Thermaltake claims the A30 will support. However, they do not mention that for it to support a video card longer than 10" it must be a single slot card or that the PCI-E slot must use the first expansion slot, otherwise the chassis will need to be modified and lose a 3.5" hard drive bay. I hope in future models, they take the dual slot cards into account when designing a case like this.
The Thermaltake Armor A30 can be found on the
Bigbruin.com shopping pages
starting at about $100 (US). Looking at other popular online retailers finds it at
Newegg.com
for $120 (before a $20 rebate brings it back to $100) and at
Amazon.com
where the price is $111. For a case with the features included on the Armor A30, this is a reasonable price. There are cheaper cases that might match the style of the A30, however they do not match the A30 in features.
With all the included features, the Thermaltake Armor A30 is a great choice for LAN party attendees or even in a college dorm, and therefore earns the Bigbruin.com "Recommended" and "Gaming Approved" awards.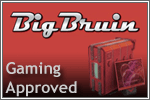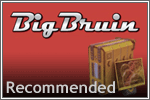 Pros:
» Small and very portable
» Easy to install
» Support 2.5" drives
» Quiet fans
» Partially tool-free
» USB 3.0
Cons:
» No handle
» Does not support all long video cards
» Low profile CPU cooler required
Please drop by the Bigbruin.com Forum and feel free to post any
comments or questions
.