Conclusion:
After using the PC TrickleSaver for a few weeks, I can honestly see how this would save you a few bucks. Even in Sleep Mode, I realized that my HP Laserjet drew 40 watts. That's equivalent to leaving a light on all day, everyday. When you add on the additional peripherals I use on a daily basis (24 port gigabit switch, wireless bridge, scanner, 2 LCD monitors, 2 sets of speakers, task lamps, and external hard drives), I'm drawing over 225 watts at standby. At the rate I pay per kilowatt-hour, this works out to over $200 per year! This device will end up paying for itself in a very short time and will help reduce your impact on the environment - or at the very least, save you some cash on your utility bill.
In addition to it working as advertised, the PC TrickleSaver is extremely simple to set up, quite compact, and operating system independent. On the downside, you'll have to be sure your system's USB ports don't remain powered when the system turns off, and if you require Sleep Mode functionality, the PC TrickleSaver can't help you.


A Google search doesn't show any e-tailers currently offering TrickleStar products, but there are a few listed on their own
where to buy page
. It can be purchased for under $20 directly from the
TrickleStar web store
, which is quite attractive considering it can save you that much money in no time.
For the simplicity, price, and performance, the TrickleStar PC TrickleSaver earns the Bigbruin.com "Highly Recommended" and "Great Idea" awards.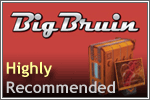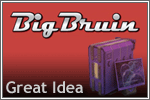 Pros:
» Works exactly as advertised
» Simple to setup
» Not OS dependent, so it works on any computer with a USB port
» Inexpensive
Cons:
» Additional components may be needed if your USB ports remain powered on shutdown
» If you require Sleep Mode functionality, you'll need a different product.
» Limited availability
Please drop by the Bigbruin.com Forum and feel free to post any
comments or questions
.