Packaging:
The
Thermaltake
Toughpower XT 750W power supply comes in a nice looking box as you can see in the below left image. The below right image shows how the power supply comes tightly wrapped in several inches of thick foam for protection. The packaging did a great job to protect the painted finish of the sample on its way to me.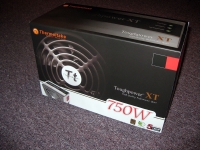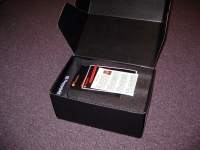 The Basics:
Let's take a look at the
Thermaltake
Toughpower XT 750W power supply from all of the angles.
Starting with the profile view you can see this is a modular power supply (the exception being the 24-pin motherboard connector). The top of the unit has a placard with all of the specific certifications, ratings, and other information you would expect from any power supply manufacturer.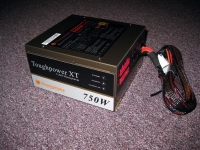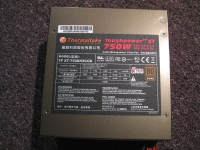 As we proceed to the side of the unit that is exposed to your case window you will notice the Toughpower XT name along with the three LEDs described previously in this review under "features." If your power supply is working properly expect to see three bright green LEDs glowing from the power supply at all times. Even when the computer is off the standby light is constantly glowing. Those of you with case windows may or may not like this feature. If we flip the unit over it exposes the large 14cm fan on the bottom of the power supply. Not much to see here though I can tell you I couldn't hear this fan over the test system's 8800GT graphics card fan.
Next lets look at the rear of the unit. Note the extra switch to control the power supply fan once the computer is shutdown. You can set the fan to continue running for 15 or even 30 seconds after the system has been shutdown to exhaust any residual heat.