Performance:
TickTalk recommends you get service from Red Pocket who is an MVNO for both AT&T and T-Mobile, and their basic service for either network is $10/ 30 days for 500 minutes talk, 500 texts, and 500MB 4G LTE data. So much of the performance will depend on your choice of network and their coverage in your area. In my case I got an AT&T SIM but we live in a fairly rural area so coverage can be spotty with GSM networks, especially in buildings. This does effect the performance but I will outline those limitations below.
The screen on the watch is fairly bright and the resolution is good enough for a kids watch, though I do find the touch sensitivity is a little rough in the corners. But to be fair little fingers seem to operate the back arrow better than I can. TickTalk allows the end user not just to customize the watch by changing the watch band, they also allow you to change the lock screen and wall paper. Below are some images showing some of the screens. In this case the Home Screen is the lion and the Wallpaper is a camo theme. After unlocking the home screen you will see your first menu with four options. Tapping the blue icon calls dad, the pink calls mom, no need to enter a number. On the bottom left you have the reminders and on the right you have the contacts list. The next page has options for group chat, FaceTalk, texting, and dial pad.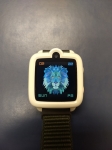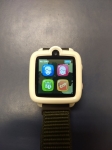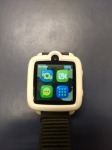 The next screen has the camera, allows you to browse images, get to settings, and access the stopwatch. Under Settings you have access to info about the owner, setting the home screen, wallpaper, time, date, language, volume, airplane mode, sound modes, ringtones, see info regarding cellular and Wi-Fi networks, update the OS, check storage, clear cache, and reset the device. The final screen has a calendar and a calculator. Unfortunately the calendar is just a listing of days, not something you can edit and add events to.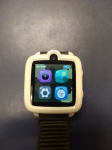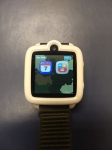 Initially we purchased this watch since our son is at that age where he wants to be out and have some freedom but we still want to know what is going on. We figured this watch would give us the ability to track him without having another device he'd be playing games on all day. Unfortunately when we ordered this watch we were informed that the color choice we made was out of stock and if we wanted it by Christmas we had to go with the white watch. I am not sure why, but they market the white as a girls watch and ship it with the pink band shown earlier. So we got the watch and a band color of our choice. Seems like it would have been a better idea to just sell the watches without bands and let people customize from the start. Anyway we got the watch and set it up just before Christmas. The week between Christmas and New Year's was full of disappointment. There were so many features that weren't working that it was hard to tell if the hardware even worked. But with that said there were regular updates to the firmware and app, which started to straighten things out. After giving them some time to figure out the growing pains I felt it was best to just complete this review.
As I mentioned we wanted this to be able to track our son when he is out. For this purpose the watch doesn't quite work as advertised. As mentioned they have a power saver feature which if enabled means you have no historical data, but if you enable this I doubt you would get half a day of use. So I am basing its performance on the power saver mode. In this mode it often shows his location to be off by 100 yards or so. TickTalk considers this to be normal, and while I do not, it is good enough to have a general idea where he is. But that is if he is out walking or hanging out. If he is in a car moving I can rarely get the location to be updated. After pressing the icon you wait 60 seconds to get the "Oops" message. While I am not overly concerned about someone taking off with him, if this was your concern this watch doesn't look like it is a reliable tracker.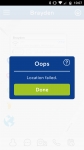 Messaging and group chat: This on the other hand seems to work quite well with one caveat; you don't get notifications. Unlike your typical text messaging app, I have to be in the app to see that there is a message and even then it doesn't seem to update right away. I really wish they would figure out a way to provide push notifications so you are aware of a new message in a more timely fashion. But other than this issue the messaging works well and I like the canned messages they have on the watch which makes it easier for him to send a quick message, or if one doesn't fit he can record a voice message.
Calls: Clarity on the watch is pretty good, though we did find it is hard for him to hear in louder environments. While he can put his ear up to the speaker he has to remove it to talk into the mic. All doable but can be a little cumbersome. In the menu he has access to call mom or dad directly by pressing the icons, or he can make an SOS call by holding down the red button on the side for a few seconds. All of this functions as intended.
FaceTalk is much like FaceTime. We didn't use it much but it does work. We found it hard to communicate unless he was in a quiet area. Again due to the limitations of the built in speaker and microphone the sound levels are just a bit weak.
SuperHearing: I am not sure why but this was a feature my wife was interested in, maybe she was worried about bullying but either way I thought the idea of dropping in on his day seemed a bit intrusive. But as it turns out this feature is basically useless. Since it is intrusive, the only person that has access to this feature is the admin. When you want to utilize it you select it in the app, then provide the number you want the watch to call. Then you simply answer the call which typically comes in about 20-30 seconds. The problem is the microphone is so weak you really don't hear anything. If his arm is at his side you might be able to tell he is speaking but won't be able to discern what he is saying let alone hear anyone else in the room. This is not at all like when someone butt dials you and you can hear everything going on in their day.
Reminders: This has worked out pretty good for us. While the screen cap only has one reminder shown we have since rolled out several more and we find that he is more receptive to the watch reminding him than us doing it. Maybe this is because the watch is new but either way I will take it. We like the flexibility of being able to schedule things at different times and different days, I just wish you could link this to a calendar. I think it would be easier to reschedule things like say that soccer practice that got rained out. These one off events are likely to be easier handled through a family calendar, but this isn't a bad option.
Do Not Disturb and Firewall: These two features are key to me. We wanted out son to be able to wear this to school but it not be a distraction during the day. While we know when he is at school, grandma sometimes gets things mixed up. With the Do Not Disturb enabled we can be sure he is not able to send or receive messages or calls. Also of equal importance is the Firewall. I know how many spam calls I get and we wanted to make sure that only his contacts can reach him. Early on we did have a failure of this but according to the FAQ on the TickTalk site, this can happen if the setting is not transferred to the device. Since this was early on and in the month plus after we have never received a random call I would say it must be working.
Battery: This is definitely the weak spot. If this watch stays on Wi-Fi it will last most of the day if not all day. But if you are on cellular and in a fringe area forget it. My son's watch normally has service outside his school, but inside the building there is nothing. Initially he would have a dead watch by lunch time. Since then I have added the schools guest network but since this requires you to acknowledge terms each time he isn't really connected. This partial connection seems to be enough to extend battery life to about 5pm but being that he doesn't come off the charger before 8:30 that isn't terribly good. I suspect if you were in a stronger cell area you would fare better, but I think they need to be doing some reprogramming to reduce this battery drain. Also concerning is that sometimes the battery will say 99% for hours, then drop to the 60's and be dead shortly thereafter. Sometimes it will just die when he is doing something and it indicated 40% or so. Hopefully some firmware updates will fix this. Because they use a proprietary charging cable there is no way to charge this on the go unless you travel with your cable. We have also noticed that while this has a magnet to align the charging pins, it sometimes needs a little wiggle to actually make contact. Twice he has woken up to a dead watch since it wasn't actually charging.
Cell and Wi-Fi coverage: Overall I found this device to have good Wi-Fi coverage and cell connectivity was almost as good as the Republic Wireless Relay operating on the same network. The differences were small and only in fringe areas.
IP67 rating: Normally this would mean the device is rated to withstand being under 1m of water for 30 minutes. This sounds perfect, your kid can wear it in the shower, playing in the sprinkler and even while swimming in the pool. They even have a video placing it in a small fishbowl. Seems great until they say "We don't encourage the child using the watch in water. It may cause watch damage. This feature just for accident protection." Further they say "We don't take the warranty with water damage watch because we can't figure out how a child uses the watch." These statements make me question the validity of the IP67 rating. I don't know about you, but I don't know too many children that spend more than 30 minutes under 3 feet of water.
Kid friendliness: Overall it is OK. My son has no issues navigating the screens and customizing it to his choosing, though some additional options would be nice. We do seem to have an occasional issue with him getting the watch fully seated on the charger. At first we had him verifying the watch indicated it was charging before leaving it, but we found out that the slightest bump of the wire could cause it to disconnect. The watch band itself is very comfortable and it is the only band he is able to work on his own. I do wish it had an activity tracker but he doesn't seem to miss it too much. I was worried about the SOS button being accidentally actuated but this has not happened yet.