User Interface:
Pointing our browser to the N3200XXX's IP address brings up the unit's web management interface. Clicking on the admin icon prompts you for the password you entered in the Setup Wizard and logs you in. By clicking on the yellow flag in the lower left corner, you bring up the Flash-based interface.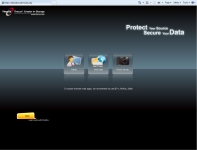 Once inside, we're taken immediately to the home page and the main functions of the NAS. A quick click will get you any pertinent information you need or have quick access to setup everything from RAID to shared folders.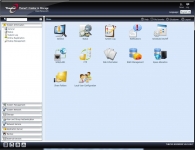 One of the main features of the Thecus N3200XXX is that it can be configured as an iTunes server. Simply by clicking the Enable button and Apply, the server will show up in your iTunes Shared list.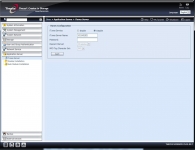 You can also setup email notifications through your ISP's email servers, or by configuring the included mail server service. By enabling the service, you can receive emails for warnings and/or errors.
If you're running a mix of Macs, LINUX machines, or Windows PCs in your home or office, then SAMBA may be something you'd be interested in enabling. As with the iTunes server configuration, it's as simple as pushing a few buttons to get the service up and running.