Internal Inspection:
We certainly couldn't have something cool like this on the test bench without breaking into it to see what's what.


After removing the four screws from the back plate, a few more screws from behind that, and a few more from the drive rail area, we were able to slide the internal chassis out. The first image below gives you another shot at the SATA drive back-plane, as well as a sneak peek at the motherboard. While there are seven bulbs on the front of the board, only the two on the far left (for the LAN and WAN ports) and three on the far right (for each of the three hard drives) can be seen from the front. It appears that Thecus may be using the same board for all of their NAS products. You may notice that, sadly, Thecus is not using solid sate capacitors on their boards, which could lead to premature failures. The front panel LCD and buttons operate via two ribbon cables - the headers for those can be seen just to the right and behind the indicator lights.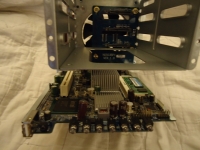 In the next image you can make out the CPU and Northbridge heatsinks. The heatsink for our N270 Atom single core/dual thread processor isn't that much bigger than the Northbridge sink. Also note that they are both passive, making the only fan in the system the exhaust fan. Since the CPU only puts out a maximum of 2.5 watts, heat shouldn't be an issue here. With Thecus using a single SODIMM slot for memory (a 1GB, 800MHz DDR2 module), one could conceivably upgrade the memory to 2GB or more - although given how lightweight the operating system is, it may not be necessary.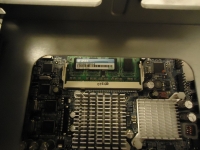 And speaking of OS, on the underside of the board we have a 128MB IDE flash drive. This holds the Linux based operating system. The flash drive is labeled 5.00.02, but the unit is actually running firmware version 5.01.00.7.