Conclusion:
The more data that the average home or power user collects, the greater the need is for some type of mass storage device to protect it all. The
Thecus
N32000XXX network attached storage server is very good at addressing this situation. With compatibility for Mac, Linux, and Windows, it makes sharing data and printers extremely easy. With its flexible configuration options and included backup software, it also makes a simple task out of backing up your valuable data.
The unit supports up to three 3.5" hard drives, which means that presently you could fill it with up to 9TB worth of disk space. Even if you chose to go with a trio of 2TB drives, you could configure a RAID 5 array with close to 4TB of redundant space for somewhere over $200 (US) beyond the cost of the server alone.


Because the unit does not use your standard Windows interface, some users may have to overcome a slight learning curve with setting permissions and the sharing of resources. Thankfully Thecus has provided good documentation and an easy to use web interface. Unfortunately, if you still need more information their support forum and knowledge base are a bit lacking.
A check of the
Bigbruin.com shopping engine
reveals that the Thecus N32000XXX network attached storage server can be found at Tiger Direct for close to $460, and at Amazon.com for about $20 less. Digging around the web a bit more finds that there are a few other shops where the price is more appealing... Such as B&H Photo where it is $390 shipped. This price is a bit on the high side, especially considering that you still have to spend some money to populate it with drives, but it does have some nice hardware inside... especially the Atom N270 processor.
While there are many other choices out there for home servers from companies like HP and Acer, the Thecus N3200XXX is certainly worth considering. In the end, the Thecus Techology N3200XXX network attached storage server earns the Bigbruin.com "Recommended" award for the functions and performance it offers for the price.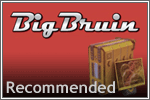 Pros:
» Three hard drive capacity should suffice for most home users
» Ability to use large capacity drives
» Intel Atom N270 powered
» Included software makes setup and backups a breeze
» Supports Mac, PC, and Linux
Cons:
» Some configuration may still be necessary
» Setting up permissions and sharing out resources may take some trial and error
» Premium price
Please drop by the Bigbruin.com Forum and feel free to post any
comments or questions
.