In Use:
The Thecus N5550 was configured with 5x 2TB Seagate hard drives. While this is a total of about 10TB of storage, I chose to create a RAID 5 array, which gives you performance and redundancy, while leaving you with what ThecusOS says is 7442GB of storage. This section will walk through a handful of screenshots from the ThecusOS web based user interface to see what you can do with this thing.
The below left image shows the Home screen, which is you main page once you log in. The layout is simple and easy enough to understand, with the bulk of selection being available in the menu on the left hand side and a handful of more commonly used icons found on the "desktop" in the middle. From here, one of the first things I clicked was the top link on the left side - System Information. This led me to the Hardware Information screen shown in the below right image, which confirms the processor and memory specifications.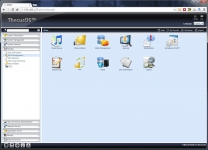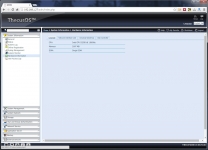 The below left image shows the Disk Information screen, which confirms that I have five 2TB Seagate ST2000 drives installed (and curiously enough that four of the five are on an older firmware). The below right images shows the RAID management screen which shows that the RAID 5 array was still being built at this time. With 5 drive bays, there is quite a bit of flexibility when it comes to drive configurations - including RAID 0, 1, 5, 6, 10 and JBOD. While not as fast as a Synology system for building the RAID 5 array, it was much quicker than other NAS servers I have used in the past.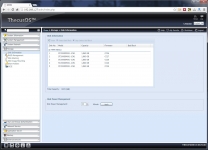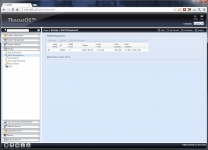 The below left image confirms that both network adapters are Intel branded and have Gigabit speed capabilities. The below right image shows the system status page, which gives you information on resource usage, fan speeds, temperatures, and network activity. This kind of information can be seen on the front panel LCD display, but as I mentioned previously I would rather have it only in the user interface and not bother with a front panel display.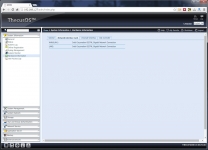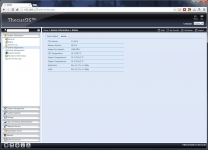 Overall the user interface is nicely done, although it is not as refined or as fast as some NAS server software out there. For basic tasks it gets the job done. Adding apps/modules is an area that could be improved, as you really are better off going online on your PC to manually download an app that you want. If you want to set the N5550 up to share storage on a local network and not get in to the fancy extras that other NAS servers are known for - you might not care about the interface, because once your drives and shares are setup, you might not be logging in for a long time. To me, this device is all about sharing storage space, and the extras like apps and add-on modules that make other brands appealing aren't a focus. Some of the same things are available for Thecus, they just aren't as polished or as prominent.
While connecting to a monitor or TV was not a priority for me in testing the N5550, I did give it a shot, and was met with the Linux command line interface shown below. It turns out that it isn't ready to work like this right out of the box. You first need to install Thecus'
Local Display Module
on the N5550, and then install
XBMC
. In order to keep a clean install with all resources available for benchmarking, I decided to skip these installations.