The Basics (continued):
The next two images take a closer look at a drive tray - without and with a drive installed. Four screws (included) are required for the installation.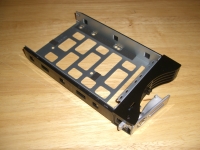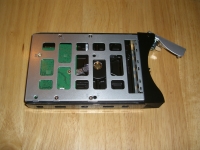 The cover for the entire device can be removed to expose the inner workings by removing three thumbscrews on the back, and by sliding the U-shaped cover off. The below left image shows the motherboard, which is mounted vertically to the left side of the drive bays. It looks like a fairly typical mITX layout, with clearly distinguishable CPU, chipset, system memory, various headers, and even a few expansion slots.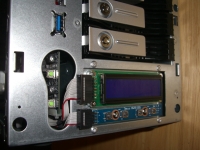 The above right image shows the front panel area with the cover removed. We see how the LCD display times in to the system via a pair of ribbon cables, and we also see the power and reset buttons mounted to the edge of the motherboard.
Taking a closer look at the motherboard shows that they have chosen a 2GB DDR3 1333MHz memory module from Transcend.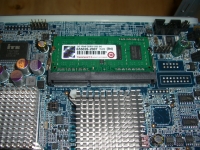 We also see a small add-on card labeled as "Industrial MDS module", which is actually a small SSD for storing the system's operating system. While there is an available mini-PCIe slot right next to this card, I wonder if you could actually use it with this system.