The Basics:
The front of the Thecus N5550 features a plastic door which you must press on in order to release the latch. I thought I broke it the very first time I used it since I just pulled on it and it released with a less than happy sounding crack. All seems OK, but keep in mind it is push to open and push to close.


There is a mesh panel in front of the five drive bays, with extra plastic ribs placed over this frame for strength / style. To the left of each drive bay is a set of indicator LEDs. Down at the bottom of the front face is a two line LCD display and a bank of four buttons. While some may appreciate the information / minimal control provided by this panel, I am not a big fan of this kind of thing. I have never had the need to use the panel on similar devices, and I'd prefer to save a few bucks and not have it there.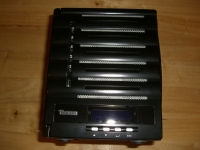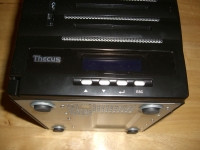 Opening the door on the front cover reveals the five drive bays, each of which has a keyed lock as part of the latching mechanism. Also note that there is a USB 3.0 port to the left of the drive bays. While having a front panel USB 3.0 port is great, the fact that you can not access it with the door closed seems like a poor design. In this area we also find a power and reset button, and for these features I prefer that they are behind the door. The below right image shows two drive trays slightly slid out in order to illustrate how a drive is installed / removed.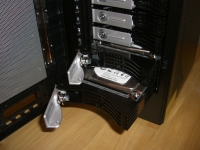 The side of the enclosure is shown below, where we see some ventilation holes near the front of the device. The back of the unit is shown in the below right image, where we find far more than you would on a typical NAS server. Typical features include a large cooling fan, power connector, a pair of network jacks, and a handful of USB ports. Less common features that we find here include a VGA and HDMI port, and bank of three 1/8" audio jacks (microphone, line in, line out) and an eSATA port. As mentioned earlier, the N5550 can serve as your media server AND your media player, so the HDMI, VGA, and audio connections are quite an interesting find for such a device. Disappointing is that the one hidden USB 3.0 port on the front panel is the only one. The four USB ports out back are all USB 2.0.