Packaging and Accessories:
The Thecus N5550's retail style box provides a few looks at the product, as well as plenty of text to describe its features, specifications, and capabilities. While I have never seen Thecus products in a retail setting, this box would be a good tool for educating a would-be buyer about this product.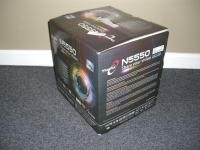 Inside the box, the NAS server is found in the center of a foam frame designed to keep it safe and sound.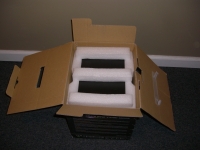 While most items like this are sealed in a plastic bag, I will assume that this one was not since it is a review sample and may have been opened up more than once before I received it. Accessories are stored in bags and placed around the NAS server in the box.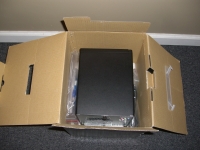 The next two images show everything you receive in addition to the N5550 itself. The below left image shows the Thecus Universal disk, a Twonky Media disk, an Acronis True Image disk, a network cable, a power cable, and a bag containing drive screws and drive bay keys. The below right image shows a handful of documentation included with the N5550.