Conclusion:
The main thing that impressed me about the
Thecus
N5550 5-Bay NAS server was the transfer rates it was able to put up. Reads and writes consistently topped 100MB/s, and many times it was closing in on 120MB/s. You definitely have the speed to handle anything a home or small/mid-sized business user could need, and with room for 5 drives in a RAID 0, 1, 5, 6, 10 or JBOD configuration, you can be sure to get just the right balance of capacity, redundancy, and speed.
Installation is not tool-less, but it is straight forward and rather simple. Once drives are installed, the configuration through the web based user interface is also rather easy. You can be up and running, with your NAS sharing storage space on your network in a rather short amount of time.


On the downside - the interface and add-on modules for Thecus servers are functional and generally easy to use, but they lack the polish and appeal found on Synology's products. I would also really like to see Thecus implement a hibernation mode on their NAS servers. 44W is what the N5550 draws while idle, and that is still quite a bit considering the two 4-bay Synology units on hand are able to hibernate and drop down to either 7W or 11W. Both of these servers wake up quickly, and you can set how much inactive time leads to hibernation, so the impact on productivity is minimal. Additionally, while I am glad that there is a USB 3.0 port on the N5550, it is poorly placed. It is on the front panel, but behind the drive bay door, so in order to use it you have to leave the door to the device open. Lower on the front panel and away from the door would be the ideal spot, in my opinion.
If you head over to
Amazon.com
, you will find the Thecus N5550 for sale at about
$419 (US)
. For reference, the two 4-bay Synology NAS servers used in this review can also be found at Amazon, where the
DS414j costs about $389
and the
DS415play costs about $540
. For a five bay enclosure that is clearly capable of solid performance, the Thecus N5550 is definitely attractively priced. You get more bells and whistles with a Synology NAS server, but if you want speedy network transfers, the N5550 offers a great value.
In the end, the Thecus N5550 5-Bay NAS server earns the Bigbruin.com "Recommended" award for its performance, and the "Good Value" award for the bang for the buck it offers!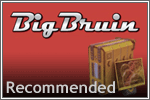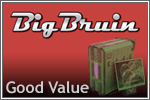 Pros:
» Fast
» Quiet
» Can be used as a media server, as well as a media player thanks to audio/video outputs onboard
» Good value
Cons:
» No hibernation mode available to reduce power consumption
» Single USB 3.0 port isn't in a very practical location
» User interface and add on modules are not the strong suit of Thecus NAS servers
Please drop by the Bigbruin.com Forum and feel free to post any
comments or questions
.