The Basics:
Taking a quick glance at the two images below, you might not even realize that this was a gaming mouse. Many times manufacturers feel the need to go over the top with the aesthetics for a gaming mouse, but in all honesty I prefer the look and shape of a more traditional mouse. Just make sure I still have on the fly DPI control, programmable buttons, and all of the other tweaks to make this my tool of choice.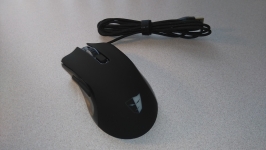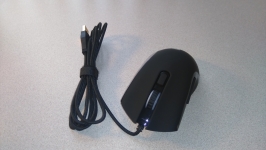 Looking down on the promotional image below gives a good look at the bulk of the buttons and features on this mouse, which you can see in greater detail by enlarging the other images on this page. You have the traditional left and right mouse buttons, as well as a scroll wheel that can also be used as a third button. The button located just next to the scroll wheel is for your DPI adjustment, while the two buttons above the thumb hold area (right handers only, sorry) are programmable but by default function as back and forward buttons (good for surfing the web).


You may have noticed that my pictures of the mouse show the Tesoro logo and the scroll wheel edges as white, while the promo image shows them as blue. We will see that this is one of the cool features of this mouse, and why it is the Sagitta
Spectrum
. You can program the scroll wheel and logo separately to light up in 16.8 million colors and use a handful of pre-configured color schemes to animate the effect.
The next two images take a look at the mouse from both the left and right side. You can see all of the features we have already mentioned, as well as how the upper portion of the mouse has a textured surface to help keep your hand in place, while the sides are a more gloss finished plastic.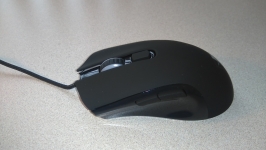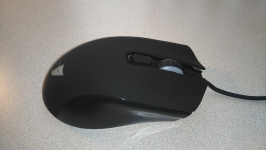 The bottom of the mouse is shown in the next image, where there is not a whole lot to see of interest. I do have to say I like how smoothly this mouse glides on wood, laminate, powder coated steel, and glass surfaces and I would say the reason may be larger due to the large phone handset shaped gliding surfaces at either end of the mouse.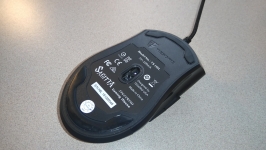 The braided cord of the mouse is also a very nice feature. From the tip of the gold plated USB connector to the other end of the mouse, there is about seven feet of cable to make sure you have enough to reach in just about any setup.