In Use:
While you can get the GRAM with red or blue switches, I am glad the red switched version showed up for review. They generally offer the feel, feedback, and noise level I prefer - and the GRAM's implementation is very impressive. The keys are very responsive, have a great feel, and the small travel required to actuate them is very nice. I feel faster on this keyboard. While you can still make a long stroke and bottom out the key, it is not necessary in order to get accurate input.
The first set of images shows some per key customization, thanks to the Spectrum Color section of the control software. You could just go nuts with the coloring, or do things more useful like highlighting the WASD keys for games, etc.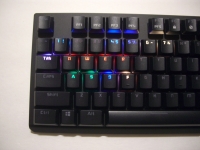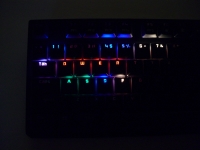 The next few images show a few looks at the keyboard with a reddish pink color loaded up. You can see that the characters on the keys are well illuminated, and the exposed switch design gives you a glow of the same color around each key. I like the look just from an aesthetics point of view, but it does give each key some definition, which may help in low light settings.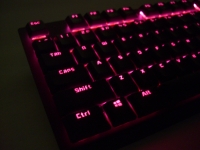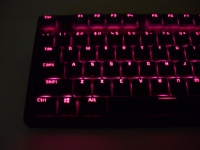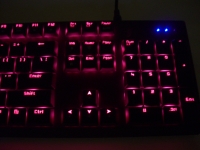 Here we see the same reddish pink color while looking from the sides of some of the keys. Definitely a nice effect.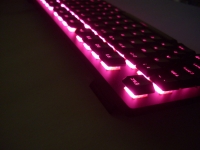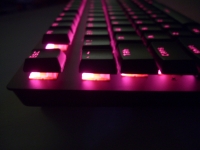 Next we just have a handful of other colors loaded up for reference. I mentioned the keyboard was fast for typing, but it is also very fast for registering a change to the lighting / effects. It does have a fast processor and plenty of memory, and it shows... When you click change for any setting, it seems to be instant, as other keyboards/mice I have used might take a second or so to update.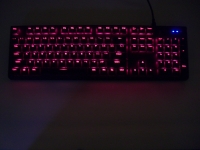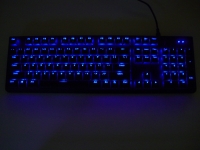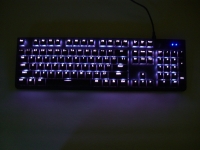 Finally - we have a still shot of the Rainbow Wave. This is a nice demo of what the keys can do when you see it in motion, but for me I can not work with it active. My kids love it, but it is definitely distracting.