Software:
The software for the GRAM is very similar to what we have seen with other Tesoro keyboards, but I feel it is a bit more refined. While I would still like to see a unified application that could possibly handle all of their devices, especially for those who use a Tesoro brand keyboard and mouse, I like the GRAM's interface the best of what I have seen so far. Compared to the other Tesoro keyboard applications, the interface uses a bit more screen real estate and uses a traditional rectangular shape that combined look so much better to me. The overall content and functionality are similar to what is found with the other keyboards, but forma and function matter. The first screen shot shows the main screen, where you see that there are 5 profiles available in addition to the base "PC Mode", there is a representation of the whole keyboard, and the options for customization are all found just below that.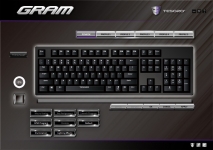 The below left image shows that I have activated the Illumination configuration, where you can configure the backlighting if you were to go ahead with one color for all keys. The below right image shows the Lighting Effects screen, where you get all the same cool effects that we saw on the other keyboards... Standard, trigger, ripple, firework, radiation, breathing, rainbow wave... and Spectrum Color which is not found on all of the keyboards, only the ones with per key control of the lighting. While you can select these through software, you can also access them directly through the keyboard by using the Fn key and the left/right arrows.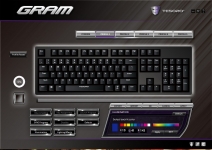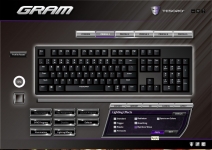 In addition to controlling the lighting of each key, you can completely reprogram the function of every key, too. That is what is shown in the below left image. You can of course configure program specific operations and record macros, and the latter is shown in the below right image.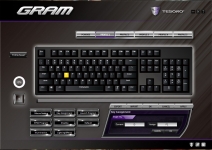 Overall, the GRAM has every function you might want in a gaming keyboard, and the software interface makes it fairly straight forward to make them all happen.