We have checked out a handful of
Tesoro
brand input devices in the last few years, including two of their LED backlit gaming keyboards, and so far we have been very impressed with what they have to offer. The
Excalibur V2
and the
Excalibur Spectrum
both scored high marks in their reviews here at Bigbruin.com because they were both well built, feature packed, and highly customizable. When Tesoro offered to send over their latest keyboard offering, the GRAM Spectrum, I couldn't say no.


The promotional image above shows that the GRAM Spectrum has a very compact foot print with a fairly traditional key layout, but right away you can see it is capable of full RGB color rendering. Before checking out what else this
$130+ (US)
keyboard is all about, let's check out some of the features and specifications taken from the
official product page
on the Tesoro website.
Features and Specifications:
The rapid reacting Tesoro AGILE key switch offers optimized keystroke, fast response and accurate actuation. Housed in a semi-translucent for optimal transparency and capped with a low-profile key, the Agile switch has a total travel distance of 3.5mm and an actuation of 1.5 mm, and a tactile level of 3 making the GRAM Spectrum the fastest yet tactile low-profile key switch.
» TESORO AGILE Mechanical Switch
» Optimized Low-profile Design
» 60 Million Reliable Keystrokes
» 16.8 Million Customizable Lighting
» 32bit ARM Cortex Processor
» 1000 Hz Ultra Polling Rate
» 512KB Onboard Memory
» All Keys Fully Programmable
» Full N-Key / 6-Key Rollover Options
» Instant Macro Recording
» Versatile Lighting Effects
» Detachable Braided USB Cable
» Compatible with Win XP, Vista, 7, 8, 10
Not mentioned is that the keyboard is available in a few configurations. You can get it in black or white, and with your choice of blue or red mechanical switches. We will be checking out a black unit with red switches.
Packaging and Accessories:
The GRAM Spectrum comes in a fairly well detailed retail box that honestly doesn't look to be much bigger than your typical keyboard. Besides indicating that it is a compact unit, the weight of the box tells you something substantial inside. Being heavy doesn't guarantee that it is well made, but knowing what I do about Tesoro so far, I will assume there is a high quality product inside.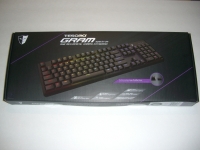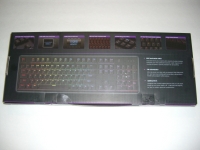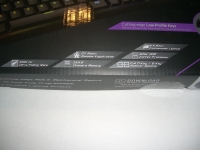 Inside the box we find the GRAM wrapped in plastic and nestled in between two foam blocks. There isn't a whole lot of packing material in here, and the hatch labeled "Break the Rules" hides the only real accessory included with the keyboard... the detachable cable. As seen in the below right image, there is a small quick start guide and a very nice, sheathed USB cable that features a standard USB plug on one end (for your PC) and a mini-USB plug for the keyboard's connection.