Tesoro
is a fairly young computer peripherals manufacturer based in the USA that was launched by a group of gaming enthusiasts in 2011. While we have not yet reviewed any of their products, we had our first introduction to them when they generously offered to sponsor a week in the 2014 Bigbruin.com Pro Football Pick 'Em. They sent over a Shrike H2L laser gaming mouse and an Ancile Z1 hard gaming mouse pad for that affair, and this time around we have another one of their gaming mice.


The promotional image above shows off the Tesoro Gandiva H1L laser gaming mouse, which we will cover in this review. While the body is constructed of plastic, the styling and surface finish make it look like it was crafted from metal. Before we take a closer look at the sample provided for review, let's check out some published information on the Gandiva H1L, as taken from the
official product page
on Tesoro Gaming's USA website...
Features and Specifications:
» 8200 DPI Gaming Laser Sensor with high speed motion detection and acceleration
» 8 independent programmable buttons
» Adjustable 5 levels dpi control. 800/1800(Default)/4000/6400/8200
» Adjustable polling rate control from user AP up to 1000Hz ultra-polling rate
» Adjustable liftoff distance tracking technology
» User friendly UI for easy setup
» 5 programmable mapping sets, with full color LED indication
» 40 macro keys, up to 1600 actions recordable
» 128Kb onboard memory
» Human ergonomic design with tuning weight-in system
» Adjustable full color LED control
» Braided cable with gold-plated USB connector
» Compatible with Windows XP/Vista/7/8
» Dimensions: 11.6x 7.2 x 4.4 cm
» Weight: 0.135 Kg
Packaging and Accessories:
The Tesoro Gandiva H1L laser gaming mouse is sold in the dramatic retail box shown below. An image of the mouse is provided above the logo, and to me it looks like it is shattering the rock found below the mouse. Around back there is a variety of information provided im multiple languages about the mouse and Tesoro.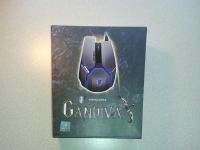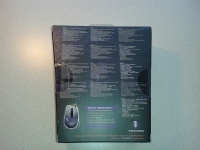 The box is pretty cool, as the front panel hinges up to give you a look at the actual mouse inside, and there is far more information and graphics found on the inside of the cover. Instead of just placing the mouse behind a window, it is in something more like a form fitting dome. So, you can get a decent idea of how it might fit your hand and how the buttons actuate.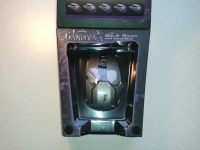 Once removed from the box, we find the mouse secured to a black plastic tray. Under the tray we find the accessories shown in the below right image. These include a portfolio with a quick start guide and a utility disk, as well as a collection of additional glides for the bottom of the mouse.