Conclusion:
I am very impressed with the
Tesoro
Excalibur Spectrum keyboard. Before I even turned the lights on I was very pleased with it due to how sturdy the unit as a whole was, as well as how the keys felt while in use. The mechanically switched keys are available in either brown, red, or blue, and the unit we covered was shipped with brown switches which functioned just as expected. With the lighting effects turned off, this keyboard looks like a fairly typical keyboard, which is something I definitely appreciate. To me, a good gaming keyboard doesn't have to have ridiculous embellishments and a shape that adds nothing to the performance. The Excalibur Spectrum is definitely understated, until you turn the lights on.


The lighting effects on this keyboard are clearly the big selling point, and you definitely get plenty of options when it comes to how you want to light this thing up. You can activate a variety of lighting effects that are triggered in response to key presses, or choose from a variety of effects that are continuous. I like to leave the keyboard in "breathing" mode, but I can tell when one of my kids has been by since it will be switched in to rainbow wave mode. While this mode isn't very practical to me for day to day usage, it is very impressive to watch it and consider the effort required for all the keys to smoothly transition through all the colors of the rainbow like that. I also definitely appreciate Spectrum mode, as it is useful to only light up the keys you are interested in, while applying different colors to them to make them even easier to find with just your peripheral vision.
In addition to the near infinite assortment of lighting effects, the ability to reprogram all keys, the availability of macros, and features like n-key rollover make this an appealing keyboard for gamers and those who need a high quality, customizable keyboard for more serious endeavors.
Heading over to
Newegg.com
finds the Excalibur Spectrum keyboard for
$99.99
, which includes a free Tesoro mousepad at the time this review was published. This is definitely a competitive price for an illuminated keyboard with mechanical switches, and given the performance I would definitely recommend it.
In the end, the Tesoro Excalibur Spectrum keyboard earns the Bigbruin.com "Recommended" and "Gaming Approved" awards.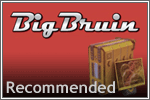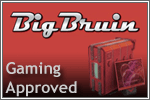 Pros:
» Incredible variety of lighting effects
» Each key can be programmed to a different color
» Very well built
» Understated aesthetics - nothing gaudy about this keyboard when the lights are off
Cons:
» Larger text and help text would be nice in the software interface
Please drop by the Bigbruin.com Forum and feel free to post any
comments or questions
.