In Use (continued):
You can configure plenty of other modifications to the keyboard, including the assignment of macros. The below left image shows that I have decided to edit Profile 1 out of 5 of the keyboard, and launched the menu which would allow me to record a macro. These can be true life savers in games, as well as practical solutions to repetitive combination tasks in every day applications. The below right image shows the key assignment menu where it simply lets you alter the function of any give key. Also a very useful option, or one that can be used for dubious reasons, especially on coworkers.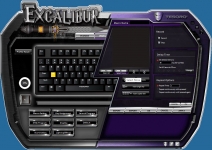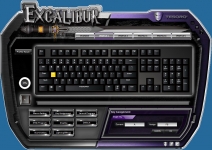 I have two complaints about the software. One, the text and interface overall are a bit small. My eyes are good, but I have to look closely to see the fine details in here. The images above are all slightly reduced, but
clicking this link
will show a full size view of the interface, which is 1000 pixels wide. Larger text would be better. And two, many of the settings and options have names that are not blatantly obvious. I had to learn by trying to see what the different settings were, like that spectrum mode is where you can program the color of each key individually. The video embedded below is just my crude attempt to highlight the backlighting modes and how the keyboard can look. The annotations in the video help to identify the name of the mode that Tesoro has assigned to each look. You may also be able to discern the sound of the brown keys being actuated during this clip.
And for kicks, here is Tesoro's professionally created video for this keyboard...