The Basics:
With the lighting turned off, the Excalibur Spectrum looks more like a generic desktop keyboard than something so outrageous, or something that could be useful for gaming.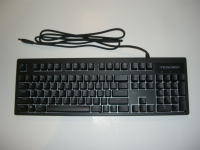 I don't mean the word 'generic' to be a bad thing either. I appreciate the no nonsense appearance of this keyboard, as some brands have gotten a bit gaudy with the shapes, curves, colors, etc. I especially appreciated the looks when coupled with my impression after picking it up. It has some mass to it, which is not the ultimate indicator of build quality, but does strongly suggest that this thing is well built. It seems like a serious keyboard, which is also capable of having some fun.
The three images below take a closer look at the left, middle, and right sections of the keyboard. The layout of the keyboard is very typical, with just a few slight tweaks. The Tesoro face icon is found on a handful of keys, such as the escape key at the far left which doesn't even say escape although that is still its function. The function key to the right of the space bar also features the face icon, and this time it is to point out that pressing this function key while using the arrow keys to the right of it will cycle you through the various lighting effects available. The Tesoro website shows a layout where there is another function key (with face) found above the enter key in the ten-key number pad area. The sample on hand does not include this function key, and that is fine with me.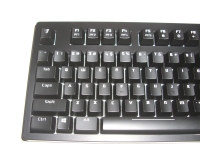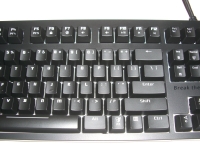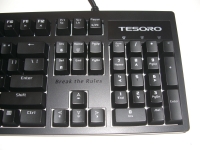 The next image zooms in on the arrow keys mentioned previously, as well as the subtle screen printing of the phrase "Break the Rules" found just above them. By holding the function key, these arrows perform the following functions... Up/down will increase/decrease the brightness of the lighting effect. Left/right will let you scroll through all seven lighting effects. These controls are also available in the utility program you have to install on your computer, but this is definitely a quicker way to activate them.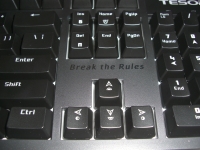 The final image in this section continues the no nonsense look at the Excalibur Spectrum by showing off the bottom. Nothing to get excited about down here.