Packaging and Accessories:
The Tesoro Excalibur Spectrum is sold in the box shown below. Not much bigger than a keyboard itself, the box uses its surfaces to provide plenty of images and details about the device inside. Right off the bat you get a look at some of the possibilities made possible thanks to the RGB backlighting , as they are showing off "spectrum" mode which gets the whole thing lit up with a wave of rainbow color.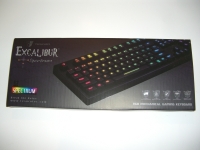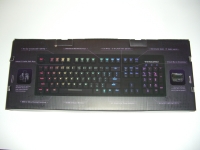 Opening the box we find the keyboard in a bubble wrap bag, with the USB cord wrapped separately in a plastic sleeve. The USB cable is permanently attached to the keyboard, which may disappoint some users who like the option of disconnecting the cable. I've had a few keyboards meet an early demise because a cable 'failed', and I'd hate to have it happen to a pricier unit like this.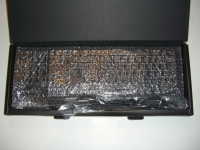 Speaking of the cable, at this point we'll show off the plug found at the end of the roughly 5 foot long braided cord. The USB connector is gold plated, and Tesoro managed to get their logo and icon molded in to the boot.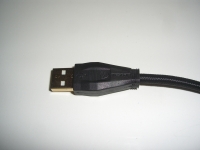 There really are no accessories to speak of with the Excalibur Spectrum keyboard, and the only other things you will find in the box include the literature and quick start guide shown below. The one item may look like a CD sleeve (I was honestly tricked), but the utility software required to use all of the features of this keyboard are not included and can be downloaded from the Tesoro website.