Testing:
We will run through a handful of tests on the Tenda AC6 to see what it has to offer in terms of speed and range. Many users probably just want fast download speeds from the Internet, but we'll also check for ping and upload speeds. The first test involved accessing Speedtest.net in a Chrome browser, choosing a local server sponsored by my ISP, and then proceeded to run the test three times in order to create an average score to report in the graphs below. The Tenda AC6 was tested both wirelessly (5GHz and 2.4GHz) and wired, and those results were compared to a handful of other devices. Wired testing involved using a ten foot long CAT-6 cable to connect a laptop, while wireless testing involved using the laptop's Intel Dual Band AC7260 H/T WiFi radio. This round of testing involved placing the network devices about thirty feet from the laptop when tested wirelessly. This was achieved on the same floor of my home, with no obstructions between the laptop and the network devices.
Speedtest.net's Ping test doesn't show anything of interest, other than that you have to wait an additional 1-2ms for a response versus the other devices.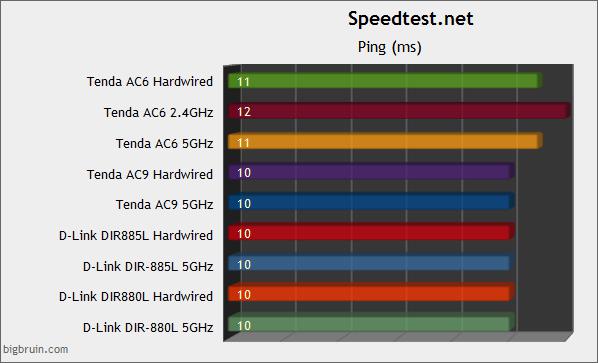 Next we have the download speeds in Mbps (higher is better), which may be the most useful value to the typical user. My Internet service is rated for 101Mbps and does go a bit faster, but because the AC6 has 10/100 wired connections it will never take full advantage of my ISP's download speed. The other devices, all of which have Gigabit wired connections, can easily exceed 100Mbps. For local transfers, say for HD movies stored on a NAS, this impact is even greater as I can get speeds over 200Mbps on a wired connection using the other devices, but the AC6 will not be able to compete!