Packaging and Accessories:
The retail packaging for the Tenda AC6 is very well done, with plenty of images and text to convey exactly what is included in the box. They emphasize the large coverage range, availability of an app for managing the router, and what they call "Gigabit WiFi" which is a term I don't particularly care for since I don't feel it is 100% honest and is more of a marketing buzz word. We will check out the coverage range and the app later to see if those two features hold up to the buzz on the box.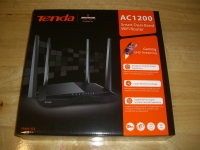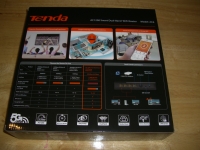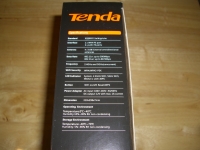 Inside the box we find the router and its accessories in a paperboard tray, with everything well separated for safe delivery. You get the router, a networking cable, and installation guide, and a power adapter. Unfortunately, the review sample was packed with a European style power adapter despite being shipped within the USA. Luckily for the sake of the review, the previously reviewed Tenda AC9 used a similar power connector with an interchangeable plug that included a US configuration. We'll just borrow that plug for this review.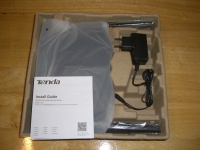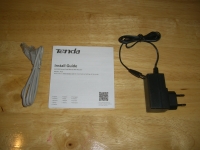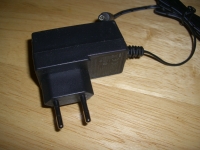 The Basics:
The four big antennas are pre-installed on the AC6, and covered in plastic sleeves for some sort of protection. The router itself is very compact, but the size of these antennas make it look even smaller. The router has a flat black finish and an angular front face which gives it a bit of a stealth fighter aesthetic.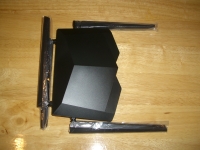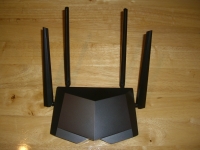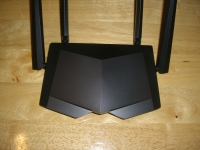 The front of the router has a bank of (blue) LEDs that indicate a variety of things. From left to right we have a system power / status indicator, 2.4G wireless indicator, 5G wireless indicator, WAN connection indicator, LEDs for each of the 3 LAN ports, and then a WPS LED.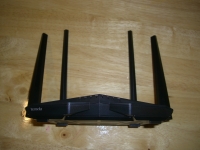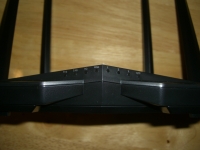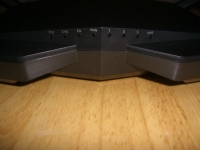 Around back we have the four wired connections (3 for LAN and the 1 at the far right is for WAN), the power connector, a WiFi enable/disable button, and a button that doubles as the WPS trigger and as a reset. Hold it briefly for WPS, hold it for long enough that all the lights blink and you have completed a reset.