The Basics (continued):
On the left side of the unit there are a few items to note; one being the power button. The top button, highlighted in red with the universal power symbol, is used to turn the unit on and off. It has a LED below the button that blinks blue until it is ready for action, then is steady blue when the system is booted. To power off, hold the power button until you hear a beep, then the blue LED will flash until the shutdown is complete.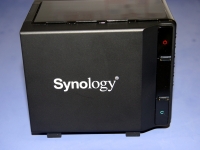 The button on the bottom, with the green capital C icon, is used to copy data from the front USB port to a specified folder on the NAS. The LED above the button will turn steady green when ready to copy. It will start copying the whole USB drive when you hold the button for about 1 second. When the copy is complete, the light turns off indicating that you can remove the flash drive.
The back of the Synology Disk Station DS409slim is where the hot swappable 2.5" SATA hard drive bays are located. In addition, this is where you will find an eSATA port, another USB port, a network connection, and the power plug. There is also a small reset button if something goes awry and you need to set the unit back to the factory defaults. Fortunately it will only reset settings, and it will not format or corrupt any RAID arrays. The label on the bottom left includes the MAC and serial number for the system. Also a nice touch are numbers below the hot swap bays, and blank spots on the hard drive trays. There are stickers included to put on each tray; to me, this is very cheap. Eventually the stickers are bound to come off, why not just permanently match the number scheme on the trays?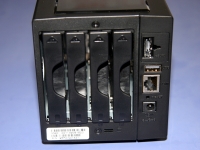 On the bottom of the unit there are two things worth mentioning, the feet and an intake fan. The feet are rubber and pretty soft, they are also thick enough to allow for some air to be sucked in by the fan inside. The fan is 60mm in diameter with a speed range of 2,300 to 6,200 RPM and a noise rating of 24 dB(A). The design of the airflow is well thought out; suck air from the bottom and vent it out the top, providing constant airflow between the drives inside.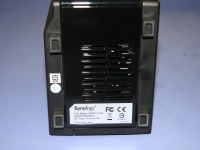 The last item of interest is the base plate. I assume this is for situations where the DS409slim is not on a hard, flat surface (such as a carpet). This will allow for sufficient space for the intake fan to suck air into the unit. It also makes the system look a bit nicer, almost like a pedestal.