External Examination:
Once unpacked we find that the
Synology
DS414j has the familiar look of a Synology NAS and that the final step before use is to unwrap it from some clear plastic placed over the front surface.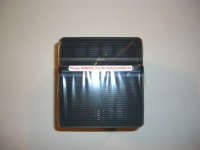 The front of the DS414j is fairly simple, but includes everything you would really need.


The lower 60% and upper 20% of the black plastic bezel is slotted to allow for airflow to reach the drives inside. The remaining 20% of front surface that is not for ventilation is a strip where we find all of the buttons and indicator LEDs required to interact with the device. Seen in closer detail in the below right image, we see that on the left hand side we have indicators for device and network status LEDs. In the center we have a large silver power button, and to the right we have individual indicators for each of the four drive bays.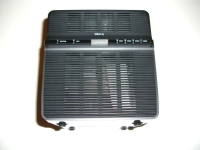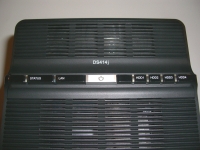 The next two images show the sides of the device, which are pretty much identical. The two sides and the top are one U-shaped piece of steel, and the Synology logo found on either side is actually perforated to allow for even more ventilation.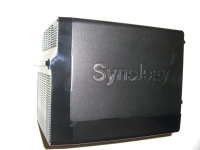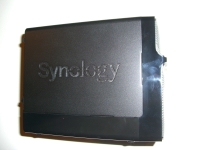 The below left image shows the bottom of the NAS server where we see a label with some model information, power requirements, and a listing of various certifications. The below right image shows the business side of the device - the back. Here we see a pair of 80mm cooling fans which draw air past the drives inside and expels it out the back. It is interesting to see two 'smaller' fans, as many devices like this that I have used implement one larger (92mm or 120mm) fan, so noise levels will be of interested later in the review. We also find the 12V DC power connection, a Gigabit capable RJ-45 connection, a USB 2.0 connection, and a USB 3.0 connection. Four small thumbscrews can be seen around the edge of the back surface, and removing these allows for the back panel to hinge down for access to the drives and the rest of the internal components, which we will look at next.