Conclusion:
The Diskstation DS414j 4-Bay NAS server is just another fine example of what
Synology
is capable of. The aesthetics of the design are retro and understated, and with the minimal noise created by the device it will be able to disappear in most home or small office settings. There is no need to interact with the box physically once it is installed, and I really like how down to business the appearance is, and that the disks and fans are usually quiet enough to not get your attention, even when you are working just a few feet away.
The performance of the device speaks for itself. With 4-bays available for configuration with the drives of your choice, you can choose just how much storage space you need, and what sort of drive array is best for your needs. While you can dive in and set up a specific RAID array of your choice, I found Synology's Hybrid RAID worked well and offered a nice balance of redundancy and performance. With the ability to use four 5TB drives in this device, you can custom tailor your needs for capacity and redundancy to best utilize that potential 20TB of disk space. As tested, the server was about as advertised on transfer rates, and provided a welcome boost in performance over a Windows based server in some cases.
The extra features are really what make a Synology branded NAS server stand out - especially the capabilities created within the DSM interface. You don't just have a simple network storage device, but a powerful server capable of handling plenty of tasks. Personal media streaming, business applications, security, and hosting are all possible and easy to achieve. Add to this the ability to do things like running a printer server, managing IP cameras, and connecting to external drives for increased storage and/or backing up to the Diskstation - it really can do quite a bit. While speaking of external storage add ons, I was very pleased to see that the USB 3.0 port can truly perform at USB 3.0 levels. You can transfer files from a USB 3.0 flash drive to the Diskstation quickly, or if you want to share the flash drive on the network I found that the transfer rates were actually what you might expect with USB 3.0. So many device before had dissapointed me by having a supposed USB 3.0 port that could read/write at 10-15MB/s, that was glad to see read rates close to 70MB/s with a fairly cheap flash drive plugged in.


Shopping around for the Diskstation DS414j might lead you to
Amazon.com
, where one without drives will set you back just over
$416 (US)
. Some DIY type readers might have sticker shock and think that they could build up a Mini-ITX based server for less money, and they might not be wrong. You probably could build a decent system, but then you would be on your own to custom tailor an OS installation to manage it and provide all the add-ons that you might want - all of which is installed and maintained by Synology's DSM with no extra effort or cost. Additionally, there are other 4-Bay NAS devices on the market which sell for less than the DS414j. While it can be hard to compare apple to apples on features and specifications, many of these other devices offer similar hardware, additional capabilities, and remote access options. I would say that for $416 that you are getting a very well designed piece of hardware, with well developed firmware/software, and you will be able to count on ongoing development for years to come.
Considering the build quality, data transfer performance, intuitive feel of the user interface, and flexibility to do far more than just share files - the Synology DS414j 4-Bay NAS server earns the Bigbruin.com "Highly Recommended" award.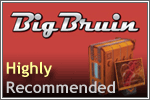 Pros:
» Solid transfer rates
» Large number of add-on packages increase the value and flexibility
» Mobile Interface and Apps are very useful and well done
» USB ports (USB 2.0 and USB 3.0) for printer sharing and file backup / sharing
» USB 3.0 port actually allows high speed data transfers on network
» Easy to use thanks to DSM's intuitive desktop operating system like interface
» Low power consumption
» 80mm cooling fans are very quiet
Cons:
» Over $400 without drives (although it could be argued that it is well worth it)
Please drop by the Bigbruin.com Forum and feel free to post any
comments or questions
.