Conclusion:
Overall the
SpotCam
HD Wi-Fi wireless video monitoring camera is a strong performer. It costs less than the comparable DropCam HD, while providing basically all the same features. It even includes 24 hours of free cloud storage, but if you require more than 24 hours of storage their rates are quite a bit less than DropCam's. So you can save money upfront and every month/year after that.


The only drawbacks I can think of are the slightly narrower field of view and the quirkiness of the software. The field of view probably won't be an issue for most people, but like I said you might just have to tweak the positioning a little bit more than the DropCam. To be honest, I mention the software issues because I saw them, but they never kept me from being able to use the camera so they were more of a nuisance than anything.
Several online retailers currently have the SpotCam HD for $120, that is $30 cheaper than the DropCam HD. The catch is the DropCam HD is no longer sold by DropCam and has been replaced by the Pro version that is $199. So unless you have already bought into the DropCam ecosystem you might be best to go with the SpotCam. You'll save $80 upfront per camera, and up to $100 a year on cloud services.
In the end, the SpotCam HD Wi-Fi wireless video monitoring camera earns the Bigbruin.com "Recommended" award for all it can do, and it earns the Bigbruin.com "Good Value" award for offering similar features to the DropCam, but with a service that is much more wallet friendly.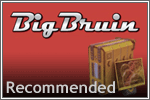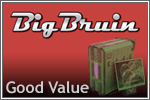 Pros:
» Can be set up easily with mobile app or with PC
» Free 24 hour cloud recording storage for life
» Can easily download time-lapse of regular video
» Very good image quality, even in the dark
» Ability to reduce resolution to limit bandwidth use
Cons:
» Microphone seems to always transmit some white noise
» Software glitches hamper user experience
» For some, the field of view might be hard to work around
Please drop by the Bigbruin.com Forum and feel free to post any
comments or questions
.