The Basics:
The SpotCam HD seems to be a well-made camera. The materials are plastic, but they do not have that cheap feel to them at all. On the front of the camera you have the lens, around that are the IR LEDs, and below the lens is the status light. Below the status light is the microphone.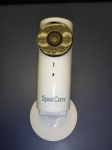 On the top of the unit is the speaker.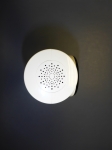 On the back you will find a switch for changing the mode, as well as the power socket.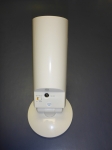 The unit can tilt about its base allowing you to mount it on just about any surface. You can even mount it upside down and have the software flip the image for you. The included wall mount plate also has a slot for cable management.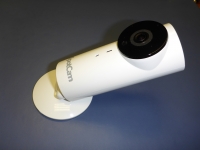 Initial Setup:
Set up is incredibly easy if you follow their directions, and it can be done either through their website or via their app. But there are some potential pitfalls. First the device does not support WEP; really at this point no one should be using WEP anyway, but in case you do, this will need to be changed to WPA. Also the current software does not support any special characters in the SSID or password.
To get started; first you need to set up your camera somewhere you have easy access to it. At this point you might as well do it at a desk or table. Plug the adapter in the back and make sure the switch is set to AP mode. Using either the website or the app you will need to set up an account with SpotCam. Once the account is established you click the add SpotCam icon. From there it walks you through the whole process. Within a few minutes the camera will be streaming live.
Once you establish your connection to the server you can move you camera to your desired indoor location. While SpotCam did provide a dedicated wall wart 12V 1A power supply; I would have preferred DropCam's approach. DropCam uses a standard USB cable, so I think you have more flexibility in your mounting/wiring options.