NZXT
may be best known for their innovative computer cases, but they also offer a variety of accessories intended to customize / personalize your system. In this review we'll take a look at their blue sleeved LED kit, shown in the promotional image below. What you get is a two meter long string of LED lights with a controller and mounting hardware that lets you customize the lighting effect seen through a case's side window. Available in lengths of either one or two meters - and with color choices of blue, green, orange, red, or white - there is bound to be a combination to suit just about any system.


Before taking a look at the sample provided for review, let's read a bit about
what NZXT has to say about this product
...
The NZXT Sleeved LED Kit re-images the way enthusiasts sets up lighting inside the computer case. Traditionally, cold cathodes and even solid LED boards take up large amounts of space inside the case. Using sleeved wires paired with high density amount of LEDs, the NZXT LED kit allows users to hide lights between side panels and under components, creating an amazing glow effect. Lastly, the NZXT Sleeved LED Kit is paired with a three step light sensitivity and on/off light function via PCI keeping the LED kit stealthily hidden away while unused.
Features:
» Easy Management:
» Designed to take up minimal space and fit in narrow areas in any case
» Sleeved LED Kit provides numerous LEDs on one cable to simplify installation.
» 5 Kit Colors: Set the mood or mix and match with red, green, white, blue, or orange kits.
» Sleeved LED Kit comes in 2 lengths; 1m and 2m.
» 3-Step Light Sensitivity: Allows user to turn LEDs on high, medium, and low settings or turn off.
The Basics:
The below left image shows how the blue sleeved LED kit is sold. The clear package lets you see everything inside, while some images and a bit of text on the front and back explain it a bit more. Once the package is hacked open, we find all of the items laid out in the below right image. You get the two meter long string of LEDs, an expansion slot controller board, a sheet of instructions, a short power lead with a 4-pin connector, and a bag of hardware comprised mostly of self adhesive clips to be used to attach the string of LEDs where ever you may choose.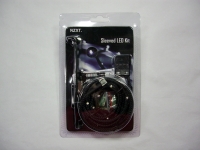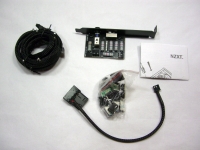 The below left image shows the controller board, which will mount in an unused expansion slot at the back of your case. While you can just tuck this piece anywhere in your case that works for you, if you want access to the power button and 3-way switch that controls the LED light output, you'll have to put it in an expansion slot. Considering how short the power lead is, my main issue with this arrangement is with cable management. With a windowed case, sure you will see the lighting from the LED string, but you'll also see the power lead, 4-pin connector, and this controller board. The below right image shows the two meters of mesh wrapped wiring that features two dozen blue LEDs spaced every few inches. The bundle is very flexible, so it should be easy to install the lighting to follow just about any shape / pattern.