Conclusion:
The performance results for the SK hynix Gold S31 1TB SSD are very impressive, but there is much more to like about this drive. It carries a very respectable 5-year warranty, but the published reliability specifications are better than many other drives on the market. Many drives advertise 400-500TBW (Terabytes Written), but much fewer are willing to rate their drives for 600TBW like this one is. And when referencing the determined MTBF (Mean Time Before Failure), many manufactures are comfortable with 1 million hours, but it is less common to see 1.5 million hours, like we do with this SK hynix drive.


The price of the drive is an interesting point. At
$118.99 from Amazon.com
it is definitely competitively priced with other brands that have a strong foothold in the market. 1TB SSDs from brands like WD, Kingston, Mushkin, and Crucial can be had for about the same price and the issue is that they have years of experience in this market and have developed a reputation for selling quality drives. As a newcomer to the retail SSD market, SK hynix is at a bit of a disadvantage as they don't have that reputation. The performance is great and the published specifications are impressive, but with so many other players putting out similar products it seems like price is the area to differentiate themselves. SK hynix definitely has an extensive background for building trusted memory components, but this is their first retail SSD, and many just might not turn to them with so much competition.
For its performance and the strong backing from the manufacturer, the
SK hynix
Gold S31 1TB 3D NAND 2.5 Inch SSD earns the Bigbruin.com "Recommended" award.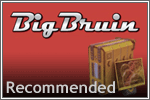 Pros:
» Very impressive performance in terms of read/write speeds.
» Competitively priced
» 5-year warranty, 660TBW, 1.5 million hours MTBF
Cons:
» Bare drive only - no software or hardware for upgrading a system included
» Price places it in the middle of competition from many proven players
Please drop by the Bigbruin.com Forum and feel free to post any
comments or questions
.