The Basics:
There isn't much to get excited about regarding the appearance of a 2.5 inch SSD, as they do have to follow the basic format in order to make sure it fits in to your device. The entire housing is metal, and the top has a matte silvery finish with the SK hynix label on it. On the bottom we find a sticker with a good deal of regulatory information and some product specific information. The SATA data and power connectors are as expected, but one interesting thing for me is that there are no screws used to hold the drive together; just a few tabs where the bottom of the housing latch to the top, which made it rather easy to open up to have a look at the board inside.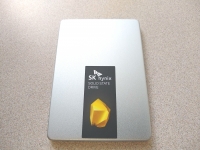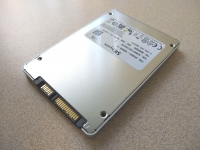 With the housing pried open we see something interesting (at least to me). The PCB only occupies about a third of the available space, and an orange plastic bracket is used to hold it in place. As advertised, all components on the PCB are Sk hynix branded, and I did a bit of searching to try to find details on what they used. Information is light, but looking up the two 3D NAND chips (labeled H25QFT8F4A9R BDG) reveals they are 512GX8, which makes sense since that is about the only way to get to 1TB with two chips. Not much in terms of over-provisioning, as many other SSDs with this configuration will have a total capacity of 960GB and not 1000GB, as will see is available on this drive.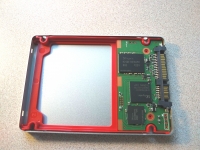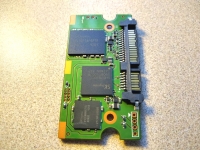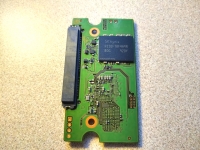 In Use:
The screenshot below is taken from CrystalDiskInfo 7.6.1, and shows some of the basic features of the drive. As mentioned above, this is a 1000GB drive and it has all of the other check boxees ticked off that you would expect... SATA/600, SMART, NCQ, TRIM, etc.