Software:
Once connected to my gaming PC it was time to load the drivers; a process which was easy enough. With that out of the way I was able to get my first glimpse of the CM Storm Sentinel Advance user interface.


The below left image provides a look at the Main Control tab. Here we can create profiles (as seen in the below right image), adjust preset DPI settings, and configure the buttons for each profile. Allowing total control over the CM Storm Sentinel Advance, you can also adjust the USB report rate from 100Hz all the way to 1000HZ. Motion sensitivity, double click speed, and button response time are all also available for adjustment.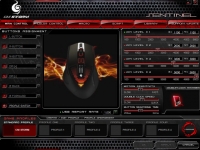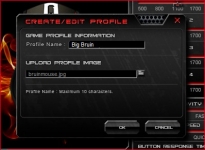 Below is a close up of the button assignment in the Main Control tab. I am sure we are all familiar with button assignment, but I felt it necessary to point out how Cooler Master has taken it a step further. Not only can you initiate rapid fire, but you can program keyboard functions as well, a great idea allowing the customer even more control and versatility with the CM Storm Sentinel Advance.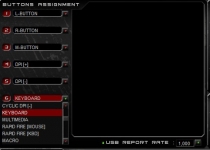 The next tab is for color management, which is just what is sounds like. Here we can change the display colors for the top and bottom of the CM Storm Sentinel Advance. In addition to color change, we can upload a desired logo that will be shown on the DPI display management screen. Keep in mind the image must have no color and be 32 X 32 pixels. As you can see I have taken
Jason's avatar
and modified it to fit the needed specifications.