Installation and Operation:
The following components were installed in the BX1-4284 for this review:
» Intel Core i7 920 (2.66GHz) processor
» Stock Intel cooler
» eVGA x58 SLI Micro motherboard
» ASUS ENGTX470 1280MB PCI Express video card
» G2 Series 64GB SSD SATA drive
» Western Digital Caviar Black 1TB SATA 3Gbps hard drive
» OCZ Platinum 6GB 1600MHz DDR3 triple channel memory
» 850 Watt Thermaltake TR2 RX-850 modular power supply
» Windows 7 Home Premium 64-bit operating system
We managed to get all of our parts installed in to the
Sentey
Black Box Series BX1-4284 mid tower case with minimal effort. As you can see, we didn't put a whole lot of effort into doing any real cable management, but with a little bit of time (and the included zip-ties) it could be easily accomplished.
For comparison and testing purposes, we used a Lian Li PC-V354 mini tower case to house all of the same components. Both cases have front intake fans, but the Lian Li only has an additional top-mounted blowhole fan. For testing we used CPUID's Hardware Monitor software version 1.17. Each build was allowed to sit for 30 minutes at idle with nothing running but hardware monitor and a maximum temperatures was recorded. For testing loads, we played one hour of Batman: Arkham Asylum with Furmark running in the background. At the end of the hour, the maximum temperatures were recorded. In order to determine CPU temperatures, an average of the four cores was calculated and recorded. Both cases were used with their included stock fans and the fan controllers set to high. The results for the CPU, video card GPU, and hard drive sensors are shown in the graphs below.
At idle, the Sentey BX1-4284 is a full seven degrees cooler than the Lian Li all-aluminum chassis. After an hour of gaming stress, it's sixteen degrees colder. The side panel fans might possibly be the advantage in this particular instance.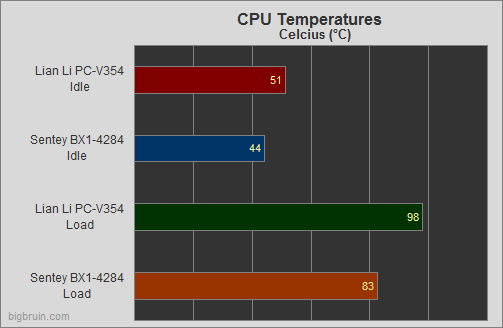 Our video card results are pretty much even for both the idle and load temperatures. One degree of difference between the cases is pretty much a wash.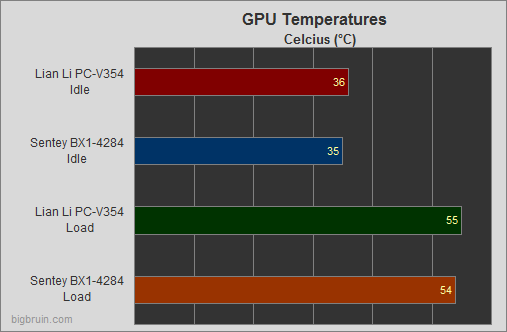 Lastly we have our hard drive temperature results. Since solid state drives produce minimal heat, we used the sensor from our Western Digital drive. Once again, both cases had very similar results being only a single degree apart on each run.