Sengled
Optoelectronics is based in Shanghai and have been around for almost 20 years. They specialize in LED lighting; making smart LED bulbs, some of which include speakers, built in motion sensors, or even cameras. The bulbs they manufacture range from your standard single color temperature bulbs to color changing bulbs to set whatever mood you are in. Today we are going to be taking a look at the Sengled smart multicolor LED light strip they sent over.


Features and Specifications:
The Sengled Smart LED Light Strip comes in two lengths; 1m and 2m. In this review we are looking at the 2m unit so the specifications are reflective of that unit. The 1m length strip is designed for expansion of your base unit, and you can find details
here
. The Smart LED Strip communicates via ZigBee to a compatible hub. Sengled does manufacture their own hub, in which case you would use their app to control the unit. Otherwise you can use your existing hub to control everything from simple on/off operation to adjusting colors of which it is capable of creating over 16 million. The 2m long strip has an output of 1500 lumens all while using only 24W. The unit also comes with a healthy 3 year warranty. Below are some additional details from their site.
» Model: E1G-G8EW
» Bulb Type: Light strip
» Lifetime: 25000 hours
» Warranty: 3 years
» Size: 2 meters
» Brightness: 1500 lumens (100W equivalent)
» Color temperature: 2000-6500K
» Dimming: Dimmable with the app
» Power Input: 120-240VAC
» Wattage: 24W
» Operating temperature: -4 to 104F (-20 to 40C)
» Operating humidity: 0-95%
» Minimum requirements: Compatible ZigBee hub
Packaging and Accessories:
The Sengled Smart LED Light Strip comes in a square flip top box. On the top of the package it shows a picture of the light strip and manual control button. It also references its need for a hub: Amazon Alexa, Google Home, and Smart Things compatibility. In the bottom right corner it mentions the lumens output at 1400 vs 1500 stated on their site. The bottom of the box provides some additional specifications, but again these don't quite match up with their site. The box indicates 18W, but as mentioned above their website shows 24W. They also mention that you can shorten this strip or add additional strips up to a total length of 33 feet. They also clearly state the ZigBee protocol these adhere to which is HA 1.2.1. Flipping the top open you'll find a welcome card and user guide.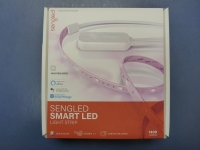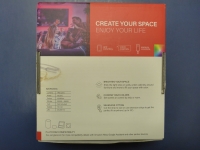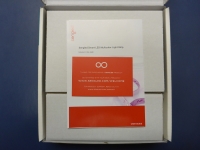 The other items included in the box are shown below. Here you will find the AC/DC adapter, manual control cable, LED strip and some additional mounting tape.