We covered the
Sengled
Element Classic LED A19 2700K 9W smart bulb in
this review
in the fall of 2017, and I have been keeping my eye on their expanding lineup of products since then. I continue to pick up their A19 bulbs on occasion, and depending on the deals at Amazon, I have paid anywhere from just under $5 each to just under $10 each to buy them. Recently there was a deal on one of their other smart bulbs, the Classic BR30 9W smart LED floodlight bulb. This bulb is typically just over $14, but it does wind up being just over $7 with some promotions at
Amazon
. I picked one up to see how I liked it and decided to write up a little something about it.


A BR30 bulb is intended to be a directional light, like you might have in a recessed ceiling fixture or otherwise aimed at the area you want lit up. It has the same bulb base as an A19 bulb, so you can use it anywhere your "typical" bulb fits, but it won't necessarily be the best choice. The BR indicates it has a bulged reflector, and the 30 is the diameter measured in eighths of an inch. So, putting it into numbers that make sense, 30/8 makes the face of the bulb 3-3/4" in diameter.
Packaging and Accessories:
The bulb comes packed in a fairly utilitarian cardboard box, which does do a good job at detailing the features and specifications. Key to me is that it uses 9W (rated as a 65W incandescent equivalent), produces 650 lumens of light, has a 2700K appearance (warm white), and it is rated for a 25,000 hour life. On top of that, we are of course paying a premium for it to have a Zigbee radio inside that will let you tie in to your favorite home automation system (I will be using SmartThings). With this we can control the on/off state of the bulb, as well as dimming.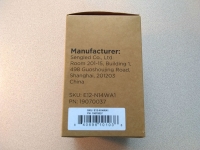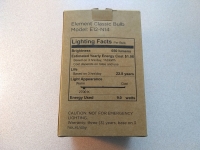 Some of the specifications are shown in the below left image, while the opened box is shown in the below right image. Just more cardboard in there, used to keep the bulb in place and safe. Considering the bulb arrived just fine despite Amazon doing a
brilliant
job of packing this bulb at the bottom of a bigger box that also included garbage bags and laundry detergent - I guess you don't need much extra protection to keep a bulb like this safe.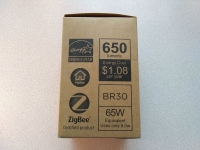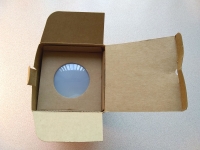 The images below show the box for the BR30 version of this bulb next to the box for the A19 version of the bulb. Other than than format, the main difference on paper (or on cardboard as it is) is that the BR30 is rated to put out just 650 lumens (versus 800 lumens) despite both using 9W of energy. I am interested to see just how obvious that is!