Conclusion:
During my meeting with Seagate at CES 2013, they mentioned they were going to phase out the manufacturing of standard 2.5" drives and focus on developing the SSHD market. In addition, they were going to stop producing 7200RPM drives and focus on 5400RPM units, while increasing the onboard cache memory and making other enhancements to improve performance. While the SSHD portion sounds great, the slowing down of the drive was a concern. Before testing the Laptop Thin SSHD drive, I thought it wouldn't be as fast as the Momentus XT due to the lower rotational speed. I was pleasantly surprised to see that the slowing down of the drive did not have an effect on performance, in fact in most cases the slower spinning Laptop Thin SSHD outperformed the Momentus XT.
It can take a few uses to cache the data to the NAND memory, and when it does the performance of the Laptop Thin SSHD takes off, and gets much closer to the performance of a SSD. When it can't cache the data, it is still much faster than a previous generation drive, and most likely the one you have in your laptop. This would be an easy way to upgrade the performance of a laptop computer, without sacrificing drive space by going to an SSD. While larger capacity SSDs are now available, they come at a very steep price!


As I previously mentioned, the 5400RPM speed was a concern which turned out to be unfounded, as it was able to match the performance of the previous generation SSHD, the Momentus XT. It just leaves me wondering what the performance could've been like at 7200RPM.
A typical SATA II Seagate 5400RPM 2.5" drive will run around $60 online at places such as
Amazon.com
. While the Seagate Laptop Thin SSHD 500GB drive runs about
$85
. So for an additional $25 you can step up to the hybrid drive and potentially get a nice performance boost. Another consideration is going with a full SSD, where a 500GB SSD will set you back over $350.
Taking into consideration the performance boost versus a standard drive, the Seagate Laptop Thin 500GB SSHD receives the Bigbruin.com "Highly Recommended" award.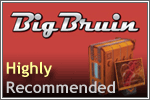 Pros:
» Better performance than standard 5400RPM and 7200RPM hard drives
» Better performance than previous generation Seagate SSHD
» Not all that more expensive than a standard 500GB hard drive
» 8GB MLC Nand Flash
» 7mm height
Cons:
» Would be interesting to see what a higher rotational speed and more NAND flash memory could do for you!
Please drop by the Bigbruin.com Forum and feel free to post any
comments or questions
.