Testing (continued):
Windows 7 Boot Time:
With the Windows 7 Event Viewer you can accurately evaluate boot times. It takes the human component out of making sure a timer is set and stopped at the same times. The Event Viewer will provide a boot time from the point that the Windows logo appears until the CPU is at 80% idle, which is when it is considered a truly usable state. Here the lower score is better as it relates to time it takes to boot.
While each of the previous benchmarks only showed the final results, here the initial timings are included as well as the 5th boot time. What this will show is what a user can expect when they first boot up, and the difference when the SSHD caches the boot files.
Once again, the Laptop Thin SSHD outperforms everything but the SSD. Shaving off close to 17 seconds at boot time can make a huge difference to people.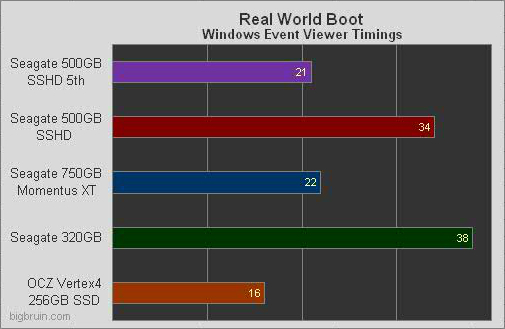 Photoshop CS6 Launch Time:
Photoshop always seems to take a long time to start up when compared to other applications. As this chart shows, even when starting Photoshop the first time, it is a bit faster than a standard drive. However after it caches files, it speeds up performance, cutting off close to 6 seconds from a standard 5400RPM drive, and performs pretty close to the Momentus XT drive; while only being 1 second slower than the OCZ Vertex 4 SSD.