Testing (continued):
CrystalDiskMark:
CrystalDiskMark
is a very popular benchmark; it is easy to use and the results are easy to understand. It tests the sequential and random data transfer speeds for all types of internal and external storage devices. All tests in CrystalDiskMark were conducted using 1000MB test files and random data sets; and results for the Laptop Thin SSHD were recorded after 5 runs. In these tests, the higher the score - the better the performance.
During sequential write tests, the new Seagate Thin SSHD came in second behind the OCZ SSD. It outperformed the previous generation's 7200RPM SSHD by a slim margin. When looking at a comparable 5400RPM drive, the difference becomes clear.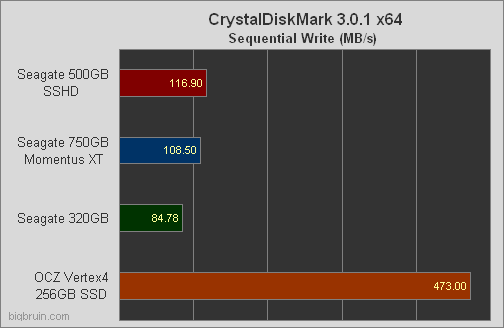 During sequential reads the Thin SSHD came in just behind the Momentus XT by close to .5MB/s; close enough that it should be considered a tie.
Taking a look at the 512K write tests, it becomes evident that Seagate has done a good job at improving the write capabilities of the Laptop Thin SSHD. It performs close to 8MB/s better than the 7200RPM Momentus XT.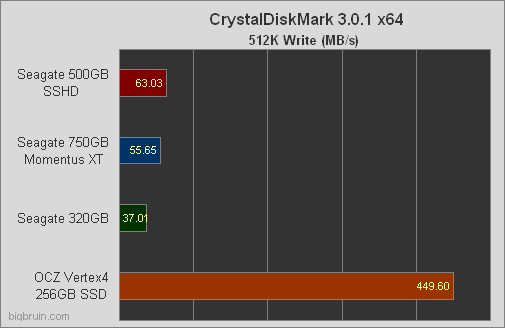 At about 6MB/s slower than the Momentus XT, the Thin SSHD is still holding up well.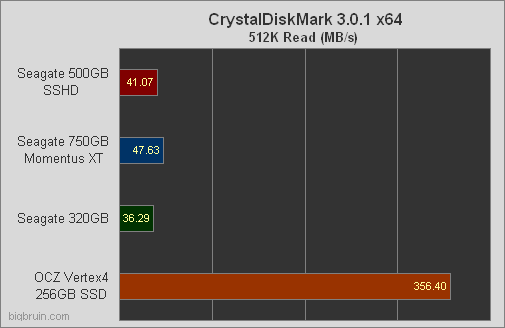 Looking over the results, it appears that CrystalDiskMark was not moved to the cache portion of the drive, even after running CrystalDiskMark 5 times to allow it time to cache files. What the above charts do show is that the Seagate Laptop Thin SSHD performs more like a traditional hard drive than a SSD in this setting.