User Interface (continued):
The device ships with hard drives installed, and I was wondering if Seagate would have configured them in to some sort of RAID array to make the NAS 440 ready to use right out of the box. Building / rebuilding a RAID array can be a very time consuming task on a NAS (or any system), and I wasn't looking forward to an extended delay with getting this up and running. While you do have the option to configure the drives in either RAID 0/1/5/10 or JBOD, I was pleased to see a RAID 5 configuration applied at the factory (see below left image), leaving 8.05TB of disk space with some fault tolerance and the potential for a performance benefit.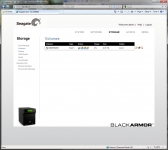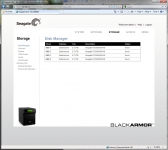 The storage tab's "Volume" sub-menu is where you find information on the RAID array applied, and taking a look at the "Disk Manager" sub-menu will provide details on the individual drives that the RAID array is comprised of. In the above right image we see that there are four of the Seagate ST33000651AS's discussed early, and that each has a formatted capacity of 2.73TB. The health / status of the array and the drives involved can be checked by visiting these two tabs.
Moving to the "Access" set of options, we first visit the "Users" sub-menu. Here you can add authorized users, and assign different permission levels. You can also assign users to groups, where universal permissions are assigned to each person without having to apply them individually. The "Folder Share" functions as its name may imply, and this is where permission to access folders on the device are assigned.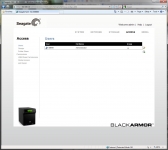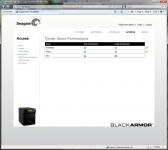 There is also a separate menu for configuring permissions to any USB drive attached to one of the four ports. Speaking of USB drives, the screen below is taken from the "USB Shares" section of the "Storage" menu where we see that two drives have been connected to the NAS 440. Once attached you can configure sharing permissions, and while most people don't bother with Windows, it is suggested to tell the NAS you are disconnecting a USB drive before unplugging it.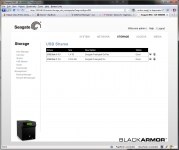 There are a variety of controls to be applied within the "Storage" subset, and the screen below shows one more collection of them. The "Shares" tab allows to do things like enabling different services for sharing (CIFS, FTP, NFS), enabling an OS style recycle bin, and here is where you can also enable encryption. While the device is able to "encrypt individual files to entire volumes of data", I can't say exactly what it uses to do so.