Conclusion:
Seagate
has been busy expanding their offerings to include items that do well to compliment their core business. From a variety of more traditional external storage devices to their media players, I have been impressed with what they have had to offer beyond just hard drives lately. The BlackArmor NAS 440 12TB network storage server is no exception.


While it is possible to build up a NAS to your own specifications by buying an enclosure and populating it with drives of your choosing, Seagate's offering simplifies the process, while also increasing the confidence you might have in the device. You now have a complete product designed and assembled by a well respected manufacturer who will stand behind all aspects of it with a 3-year warranty. While it is common for internal hard drives to carry a 3-year warranty, many external drives carry just a 1-year warranty, and many empty NAS enclosures carry just a 2-year warranty. Seagate is providing coverage that may be about as good as you could expect.
The 12TB BlackArmor NAS 440 has performed very well in the few weeks it has been installed, and the main thing that has impressed me is the simplicity. It came with drives not only installed, but pre-configured in a RAID 5 array... The user interface is intuitive and easy to navigate... options are clearly described in the user interface, but if you need extra information the help section is very well developed... and the email alert system will keep you informed of any issues if necessary, but otherwise you can pretty much forget about the device once you have it up and running.
On the downside, the firmware didn't WOW me, although it was very well laid out and easy to configure. I am hoping that an upcoming firmware release I have become aware of will introduce some refinements to the existing features, as well as providing some more exciting components like you see on NAS products from brands such as Synology and QNAP. In addition, the fan on the enclosure remains very quiet, but I think ramping up a bit may be in order. The NAS temperature may be reported as around 40C, but I found that the drives themselves can get up close to 50C under a moderate load. Cooler drives will live longer lives!
Shopping around
finds the Seagate BlackArmor NAS 440 12TB network storage server available from CDW for about $1600. While you might have a case of stick shock after seeing that, consider that a high quality (empty) NAS enclosure can easily
cost well over $600
, and while I can't find Seagate's 3TB drives for sale yet, you might expect them to cost about as much as
these
. Things add up quickly when you're putting together a high quality storage server with 12TB of space!
If you like the idea of the NAS 440, but perhaps don't quite need 12TB of space, they do have an 8TB version and a 4TB version , available for about
$1000
and
$700
, respectively (unfortunately Newegg.com doesn't have the 12TB unit listed, or I have a feeling the price might beat CDW's with ease).
The bottom line is that the BlackArmor NAS 440 12TB network storage server is well built, easy to use, energy efficient, and is a great idea for a home or small business user that needs to backup a large volume of data. That said, it earns the Bigbruin.com "Great Idea" and "Recommended" awards.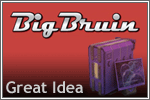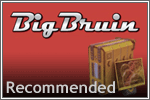 Pros:
» 12TB of storage space should be more than adequate for most small businesses (and beyond)
» User interface is easy to navigate and configuration is fairly simple
» Flexibility... supports various network protocols, RAID configurations, and backup methods
» Includes 10 licenses of useful and powerful backup software
» Small footprint, both physically and electrically
» 3-year warranty covers the whole thing
Cons:
» Drives run hot, approaching 50 degrees Celsius under moderate usage
» Firmware covers the basics well, but nothing overly exciting or innovative
» Other than on eBay, can't find replacement 3TB ST33000651AS drives for this yet
Please drop by the Bigbruin.com Forum and feel free to post any
comments or questions
.