Conclusion:
The HD5850 is a good option for those looking for a gaming graphics card with solid, above average performance. That statement would fit with just about any HD5850 card on the market, and while Sapphire usually does something interesting to set their cards apart from the rest of the crowd, this one seems to simply follow the norm.
I don't really have any negative comments regarding the card itself... Other than looking like a reference design, the only other thing I can come up with is the lack of a game. Information online, the promotional image below, and the features listed on the website indicate that a coupon for a free download of the game Dirt2 should have been included in the box. I have two units here and neither included the coupon. That said, Dirt2 still isn't available, and I have been watching for it to become available through Steam since reviewing the HD5750 which did include the coupon.


Searching the Internet reveals that
Sapphire
's Radeon HD5850 1GB graphics card isn't the easiest item to find. While it is listed at a bunch of stores, it isn't at the handful of places I turn to first, and some of the stores that do list it don't actually have any in stock. The prices are all in the $270 (US) range, which is competitive with comparable cards from other brands. Taking a look at these other cards shows that physically and feature wise, they are all about the same and should have the same price.
The bottom line is that the HD5850 is an excellent choice for those in need of some serious gaming muscle, but not the kind of muscle that costs $300, $400, or even more. For $270, the Sapphire card offers great performance, fairly low noise output, decent energy efficiency, and all of the cool new features available in the HD5XXX series. All things considered, it earns the Bigbruin.com "Recommended" award.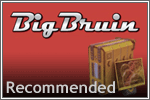 Pros:
» Strong performance in games and benchmarks
» Can throttle itself back to be rather energy efficient when full power isn't needed
» Didn't get hot - even in CrossFire
» Nice combination of connections out back: 2x DVI, 1x HDMI, 1x DisplayPort
» ATI Eyefinity Technology - cool if you have a handful of monitors
» Has the Bigbruin.com logo on the box
Cons:
» Not much sets the Sapphire version apart from other manufacturer's offerings
» Seems to be hard to find - sold out or not listed at many popular stores
» Supposed to include a Dirt2 coupon, but neither card here has one
Please drop by the Bigbruin.com Forum and feel free to post any
comments or questions
.