Testing (continued):
SiSoftware Sandra Rendering:
Just to do something a bit different, I decided to run one of the graphics benchmarks included with
SiSoftware's Sandra
. The rendering benchmark analyzes three different scenarios, all with results in terms of megapixels rendered per second (Mpixels/s), where higher scores are better. A slight edge goes to the single HD4890 over the single HD5750, but a CrossFire combo of HD5750s shoots up incredibly.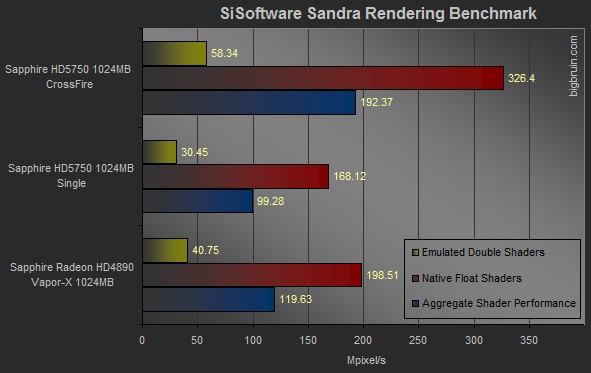 Crysis (DirectX 10):
A third party DirectX 10 benchmark intended for use with Crysis was executed with a resolution of 1680x1050, 8x Anti-Aliasing, in 64-Bit mode, and with settings on high. The benchmark provides results in terms of a minimum, maximum, and average frame rate value, and higher is better for all three. In this test it takes the CrossFire pair of HD5750s to just squeak by the HD4890, but only in two of the three values. Just over 20 fps with the single card is low for a minimum value, and on screen it did occasionally look choppy.